Food Meditation For Fulfillment
By Araxe Hajian
Miraval's Mindful Side of Culinary Series
If you have the good fortune to attend a food meditation class with Sam Blumenthal at Miraval Austin, you will learn a lot about how food can make you feel.
Miraval Resorts' culinary vision is to curate the most mindful experience for all guests to expand their culinary sense of wonder through unique journeys toward fulfillment. Food is one element of a process that encompasses its production, preparation, consumption, and relationship to the people and community it nourishes.
Practicing mindful eating helps us express reciprocity with the earth. When we bring presence and gratitude to a meal, it does more than just feed us; it inspires and connects us to a larger practice. When we dig our hands into the soil or sink our palms into a bowl to knead dough, we invest in our food; we have greater agency in our choices, and we become active participants in the shaping and sharing of experiences in the present moment. This is not simply mindless ordering from a restaurant menu or throwing the same old branded items into your grocery shopping cart.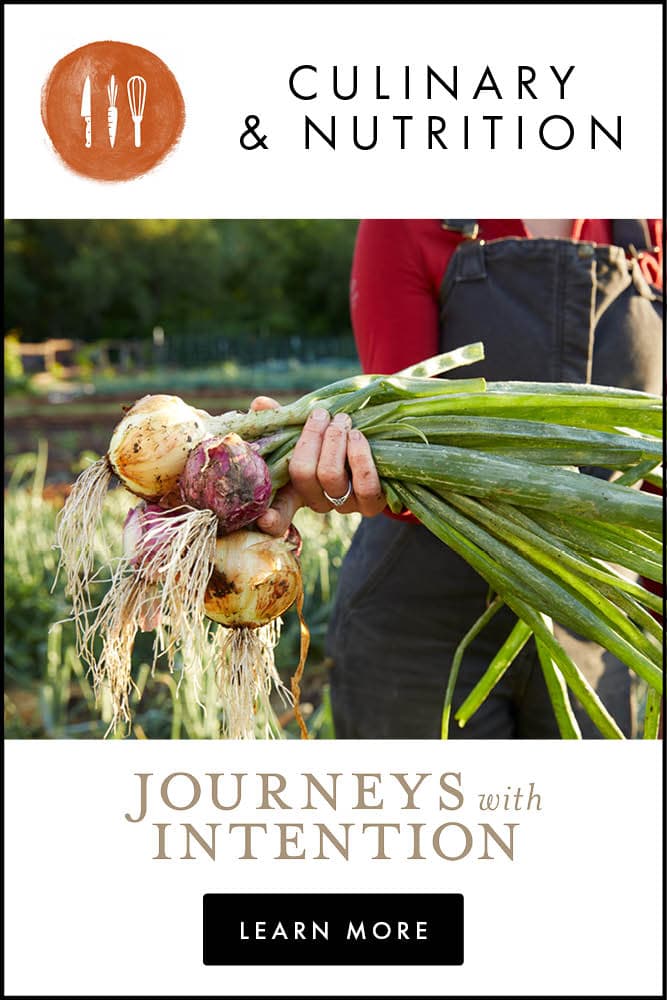 Living well and with intention isn't just about eating the right food; it is also about creating community and conviviality — sharing with people to rekindle relationships or forge new ones. You can gather with new and old friends to learn techniques, share stories, and break bread together.
Sam asks each of her participants one question to start her workshops: How do you feel fulfilled?
She nudges us to examine our relationship with food beyond the plate, how we can feel fulfilled by food and not just full. When we notice the feelings food can evoke, we can use that information to feed ourselves in a way that provides sustenance and comfort without veering into an unconscious filling of unidentified appetites. Instead, we encourage a mindset of conscious nourishment.
Through sharing stories, recipes, and observations, people can rekindle their relationship with food and each other. Feelings surface, and tales of aromas and tastes become enriched troves of sensory memory.
"As a dietitian and culinary specialist," says Sam, "I can't help but notice society's emphasis on the numerical and scientific value that food provides – primarily counting calories."
When we do that only, Sam reflects, we tend to associate a moral value with food. We ask only if it's good or bad instead of how it makes us feel, what memories it evokes, who eats it with us, or how we can enhance our enjoyment. What makes us feel content?
"We are human beings," Sam muses, "and have some days that are brighter than others. We can use this meditation to transfer our positive energy into what we're making by using our hands and being part of the process of creating a meal. And on those days that our light feels dimmed, we can use this process to transform negative energy into something creative and nourishing."
You can practice Sam's food meditation before any meal, whether you are dining solo or with friends and family. We live in a fast-paced environment that doesn't leave a lot of time for eating, so take as little or as much time as you would like to make this exercise part of your daily eating rituals.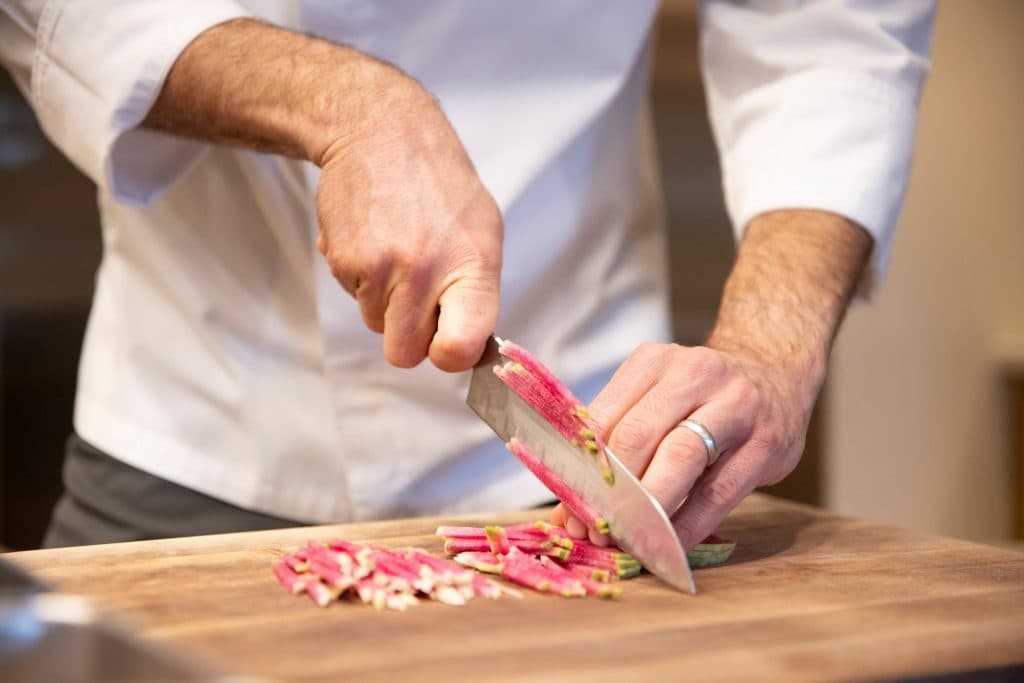 Sam's Food Meditation
Modified from Miraval Mindful by Design coffee table book
This is a technique to maintain presence before eating. Use this ritual at any meal to move from focusing on the feeling full to being fulfilled. You can even use it as an icebreaker on a date or as a game with young children.
If you are dining alone, take this time to enjoy your meal with mindful contemplation and start a conversation with yourself. If you are eating with others, use this as an opportunity to share your observations with each other.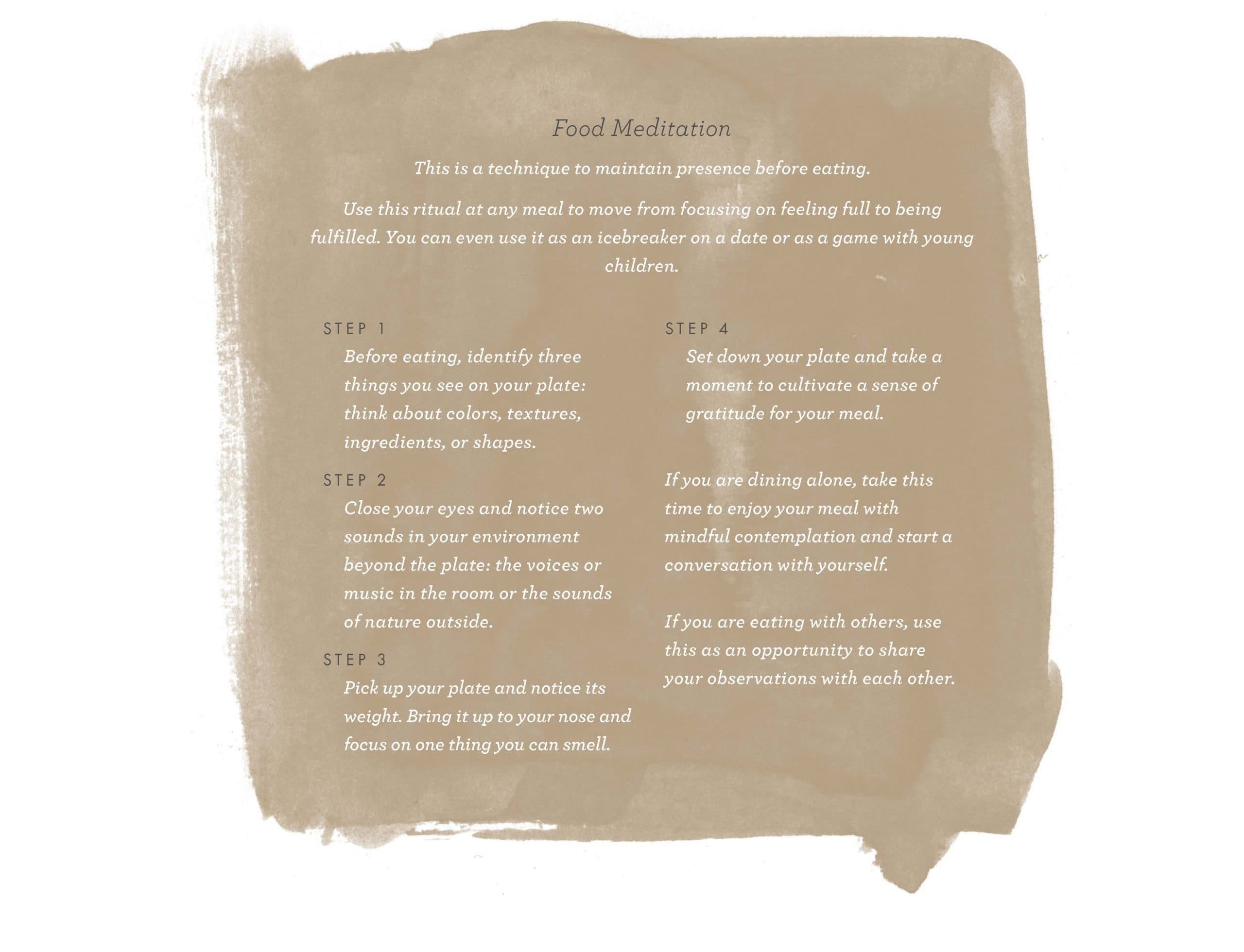 Purchase your copy of Miraval Mindful by Design by visiting our online retail shop.

- Link opens in a new window


About the Author
Araxe Hajian
Araxe Hajian is a senior writer who covers wellness stories and specialist offerings at Miraval Resorts & Spas. She was associate editor and writer at Life in Balance Magazine, storyteller at the social platform MindMeet, and author of numerous articles and Miraval Resorts' coffee-table book Miraval Mindful by Design.