Miraval Berkshires' Signature 1894 Tasting Dinner
By Araxe Hajian
I recently sat down to Miraval's newly debuted Signature 1894 Tasting Dinner* and instantly remembered the first time I experienced the magical mastery of this type of meal. I was on the cusp of adulthood and felt like I had eaten a fairytale. Ever since, I have approached fine-dining with one request: Tell me a story.
And what a fantastic fable does Executive Chef Justin Taylor and the Miraval Berkshires culinary team unfurl with the language of food at Wyndhurst Mansion in Lenox, Massachusetts. The Miraval 1894 Tasting Menu transports you to another century and offers an interactive sampling of a sensory tale, traveling through tureens of time and spyglasses of wine. Unlike other Miraval Resort restaurants that serve delicious, and healthful three-course dinners, the 1894 Tasting Dinner is an exquisite and intimate affair, and also included in the Mansion Experience Package.
From the subtle sensuality of the minxy mignardises to the bold, bombastic chocolate gateau, the meal's trajectory of intensification rises to a crescendo with a decadent duck duet, then settles into a diminuendo of rich, creamy caribe. This is a food story that ripples out into concentric circles of satiating splendor. Miraval leans into innovation and intention to serve a sumptuous culinary spread.

Edible Charms
I am a terrible decision maker, and most menus make me anxious, but this one is liberating. Engaging fully in a moment requires ceding control and letting go of attachment to a particular outcome. The tasting menu format removes the burden of choice and lets you focus on the delight and wonder of each course.
You might enjoy some bites more than others, but there are plenty to choose from (among seven courses), and you will be surprised if you open up to the possibilities on your plate. You will learn about what delights you, and that knowledge—self-awareness—is priceless.
The food is modern, mindful, and in keeping with Miraval's culinary philosophy, but—more importantly—Chef Justin's intentional presentation and whimsical creativity elevate the meal (and its exquisitely paired wines**) to an emotionally evocative operetta for the palate, spirit, and plate.
intention is love—the result is a fusion of flavors, aromas, and sights that tickle the senses and court the soul.
Just when we think the world has run out of happy surprises, this menu presents a secret treasure map. It's a portal to self-discovery, a chance to unroll an enchanted scroll of edible charms that sparkle with carefully selected local ingredients that shift with each season. Because this is Miraval, where everyone is encouraged to be comfortable, you can dress however you choose: evoke the gilded glamor of the 19th century or don the quintessential spa robe, which so many guests wear throughout their stay.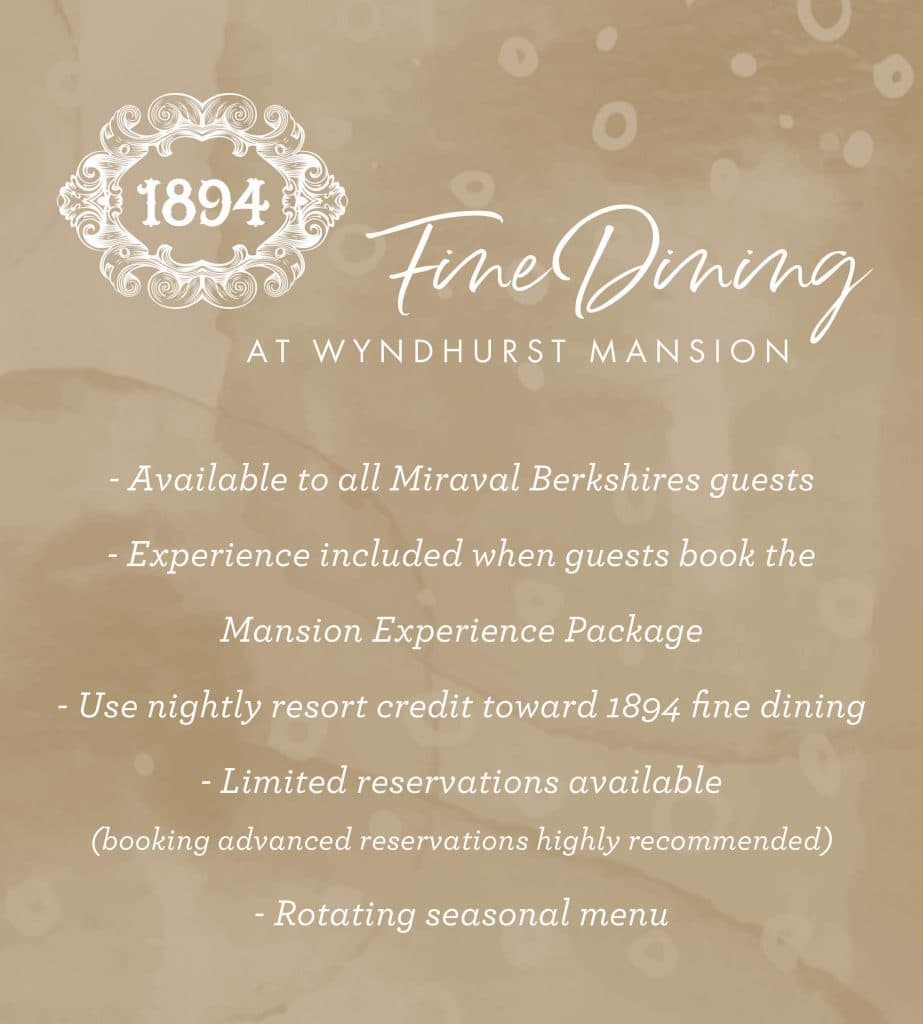 Click here to read the full 1894 Story


Escape to the gilded Age
Step into the Gilded Age at the Wyndhurst Mansion and receive complimentary fine dining at our gourmet restaurant, 1894. Enjoy luxurious and historic accommodations that will transport you to a bygone era. All meals, snacks, and non-alcoholic beverages are included in your stay.
Book Now


About the Author
Araxe Hajian
Araxe Hajian is a senior writer who covers wellness stories and specialist offerings at Miraval Resorts & Spas. She was associate editor and writer at Life in Balance Magazine, storyteller at the social platform MindMeet, and author of numerous articles and Miraval Resorts' coffee-table book Miraval Mindful by Design.