One Enchanted Evening
By Araxe Hajian
Miraval Berkshires' Signature 1894 Tasting Dinner
I recently sat down to Miraval's newly debuted Signature 1894 Tasting Dinner* and instantly remembered the first time I experienced the magical mastery of this type of meal. I was on the cusp of adulthood and felt like I had eaten a fairytale. Ever since, I have approached fine-dining with one request: Tell me a story.
And what a fantastic fable does Executive Chef Justin Taylor and the Miraval Berkshires culinary team unfurl with the language of food at Wyndhurst Mansion in Lenox, Massachusetts. The Miraval 1894 Tasting Menu transports you to another century and offers an interactive sampling of a sensory tale, traveling through tureens of time and spyglasses of wine. Unlike other Miraval Resort restaurants that serve delicious, and healthful three-course dinners, the 1894 Tasting Dinner is an exquisite and intimate affair, and also included in the Mansion Experience Package.

From the subtle sensuality of the minxy mignardises to the bold, bombastic chocolate gateau, the meal's trajectory of intensification rises to a crescendo with a decadent duck duet, then settles into a diminuendo of rich, creamy caribe. This is a food story that ripples out into concentric circles of satiating splendor. Miraval leans into innovation and intention to serve a sumptuous culinary spread.
Edible Charms
I am a terrible decision-maker, and most menus make me anxious, but this one is liberating. Engaging fully in a moment requires ceding control and letting go of attachment to a particular outcome. The tasting menu format removes the burden of choice and lets you focus on the delight and wonder of each course.
You might enjoy some bites more than others, but there are plenty to choose from (among seven courses), and you will be surprised if you open up to the possibilities on your plate. You will learn about what delights you, and that knowledge—self-awareness—is priceless.
The food is modern, mindful, and in keeping with Miraval's culinary philosophy, but—more importantly—Chef Justin's intentional presentation and whimsical creativity elevate the meal (and its exquisitely paired wines**) to an emotionally evocative operetta for the palate, spirit, and plate.
When a feast is prepared with intention—and when that intention is love—the result is a fusion of flavors, aromas, and sights that tickle the senses and court the soul.
Just when we think the world has run out of happy surprises, this menu presents a secret treasure map. It's a portal to self-discovery, a chance to unroll an enchanted scroll of edible charms that sparkle with carefully selected local ingredients that shift with each season. Because this is Miraval, where everyone is encouraged to be comfortable, you can dress however you choose: evoke the gilded glamor of the 19th century or don the quintessential spa robe, which so many guests wear throughout their stay.
Let me tell you a story about my magical dinner at Miraval Berkshires.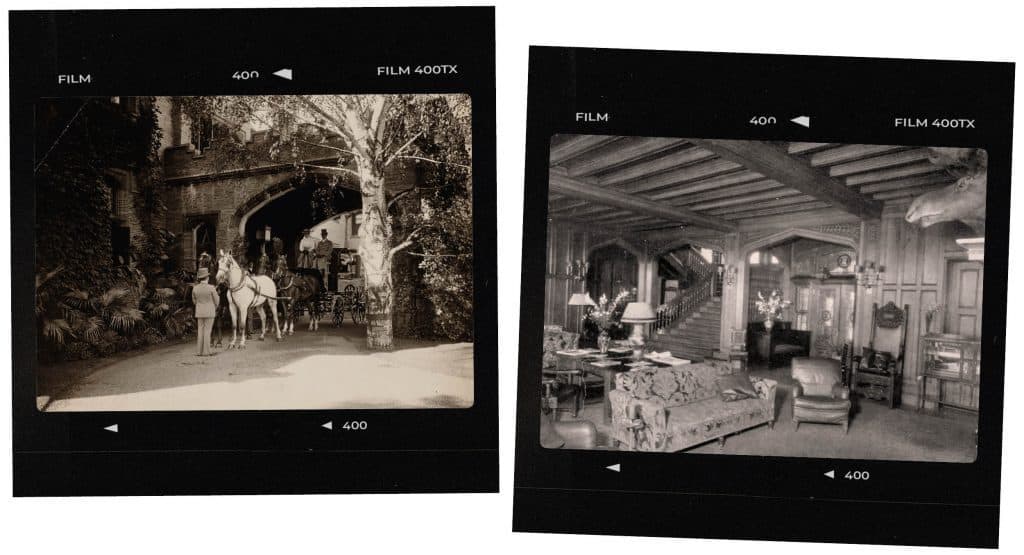 Setting the Stage
The 1894 dining room at Wyndhurst Mansion has served lavish, luxurious feasts for over 100 years. Built as a summer "cottage," it emerged in the glimmering Gilded Age of the late 1800s and early 1900s, that opulent period of excess, extremes, and extraordinary characters. It was a time of dazzling dinners at Delmonico's and Edith Wharton's enigmatic novels.
The room exudes modern elegance with preserved craftsmanship, a grand marble floor, a warm fireplace, hardwood tables, and gorgeous etched-glass windows flowing with fresh air and natural light. I am told that President McKinley was so impressed by a ceiling in this room during a visit in 1897 (in which his hosts, Mr. & Mrs. John Sloane, decorated the table with a mechanically lit, rose-ringed American-bald-eagle centerpiece) that he replicated it at the White House.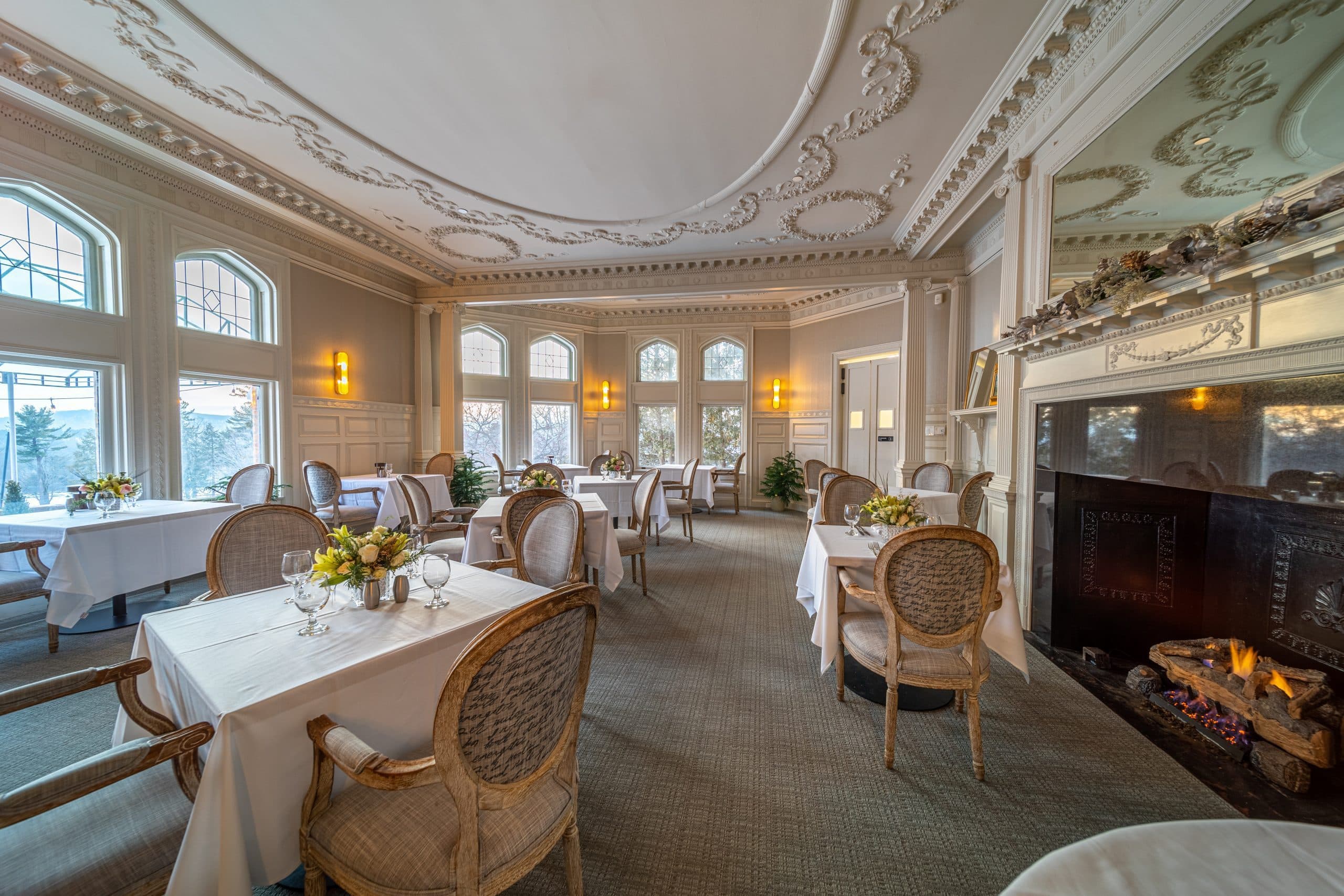 Dinner is Served
My journey begins with a bâtard, the baguette's lesser-known cousin, delivering an open-crumb crunch of joy with its signature crispy crust and soft, fluffy interior. Home-churned butter comes from High Lawn Dairy, visible from the window overlooking the sprawling grassy hills below. A citrusy sparkling Blanc de Blanc from the Finger Lakes lends an effervescent glow like the dimming of lights at the beginning of a show.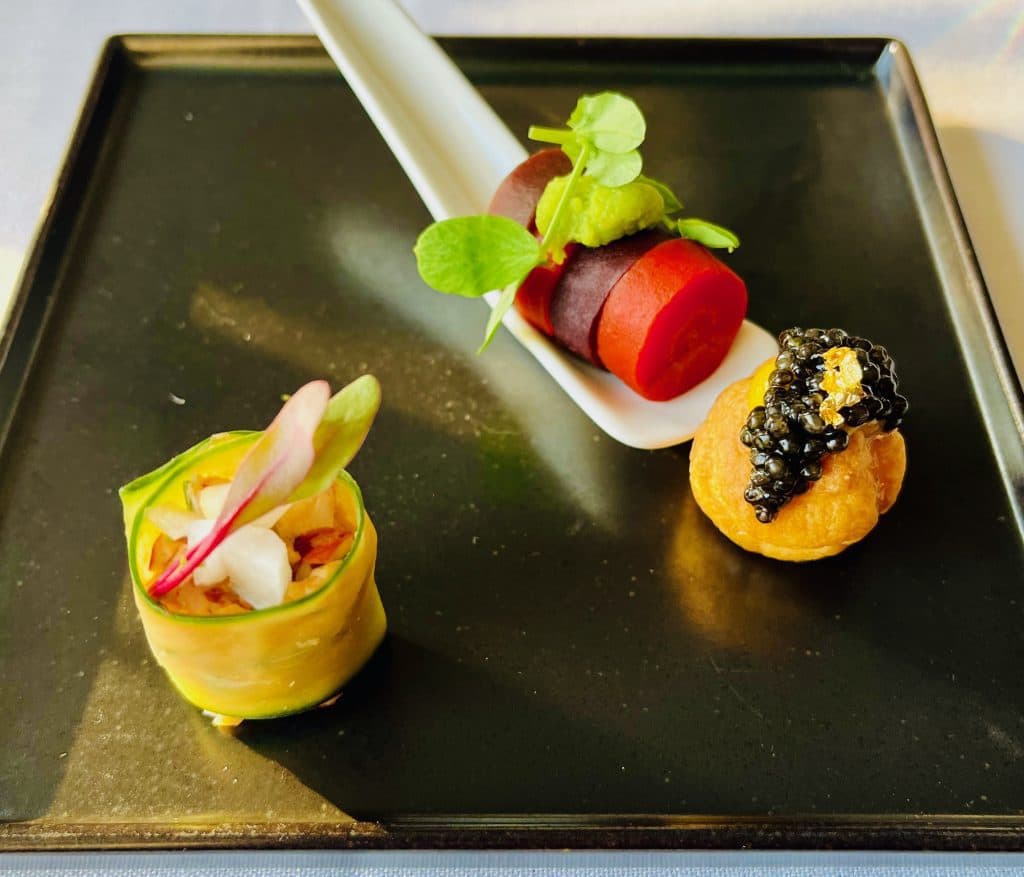 The term mignardises describes delicate bites, grace notes often served at the end of a meal. Miraval Berkshires' culinary team subverts our expectations from the start, offering them up as the overture in a savory assortment of curiosities and quirky concoctions. A trio of multi-colored carrot slices lines up on a large white spoon, a tiny crème puff with a dollop of caviar wears a crown of shimmering golden flakes, and a paper-thin slice of cucumber wraps around a filling of—well, I'm not sure what, but it's deliciously smooth and savory. Like any good preface, it sets the scene for what comes next: the melon mosaic.
If this is where the salad might land in the progression of a more conventional meal, then it's the wackiest salad course I have ever seen—and it is sensational.
It arrives on a square dish that immediately reminds me of Tetris, a game whose key is pattern recognition. On this plate, the ask is to recognize familiar patterns of flavor presented in a new form. It speaks to the fine art of assembly: as if the chef segmented a rainbow and ran it through a kaleidoscope of squares rippling from yellow and orange to green.
This is no ordinary salad with awkward heaps of unkempt greens, but an elegant, multi-dimensional chess board of pressed fruits lined up in a montage of juicy morsels. Compressing fruit gives it a denser texture that almost feels like it's cooked, while the color intensifies with a dreamy, translucent quality. A judicious sprinkle of fennel pollen produces a subtle, licoricey flavor that amps up the combined taste to a new level of luscious. It's like squeezing lime on a ripe mango, but more exotic.
But the best part is the spoonful of salty feta on top that astonishes the tastebuds. Tempered by sweet melon and mild cucumber, it balances out with the "little hand" of Manincor Vineyards' La Manina, a delicate white wine from Northern Italy's Alto Adige region. It mirrors the food on your plate with floating aromas of quince, lychee, pink grapefruit, sage, and mint. This luminescent medley is a perfect pair because, as the saying goes, things that grow together go together. I can imagine the grapevine curling around the cucumbers, fennel fronds fanning out of loamy soil. I can taste the vitality and vibrancy in each mouthful: raw, pressed, luscious, and at the peak of flavor. This course is all about verve.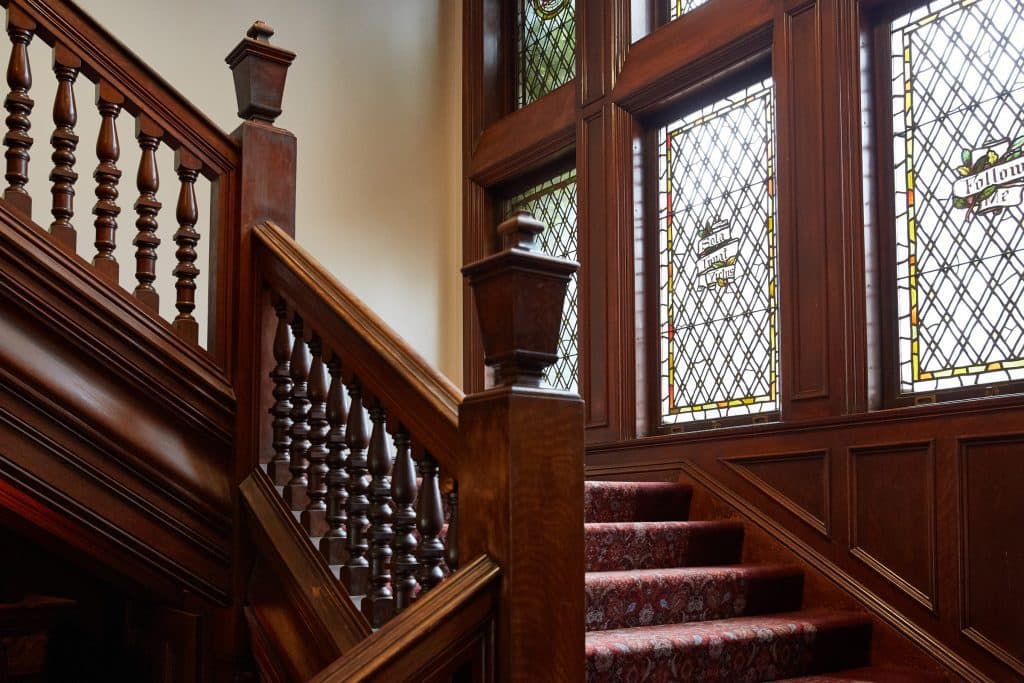 When a Sauce Becomes a Soup
The next course is a white asparagus velouté, a word that usually appears on a menu as one of the five French mother sauces. Sometimes, a sauce is so good that you wish you could eat it with a spoon—and here, the kitchen bends the rules and grants your wish. The bowl arrives with a colorful assortment of charred baby leeks and a bite of Maine lobster. The velouté streams artfully from a tiny pitcher, swirling like a magician's potion and transforming this little sea shanty into a symphony of crunchy alliums floating in an ocean of crustacean delights.
I am immediately catapulted to my childhood: plastic bibs, picnic benches, and cracking open lobster shells with my mother and grandmother on hot New England summer nights. When I moved away from the East Coast, my keenest pangs of longing took the form of a Maine lobster claw. When I missed home the most, I could taste the memory, and it was—as they would say in my hometown—wicked sharp.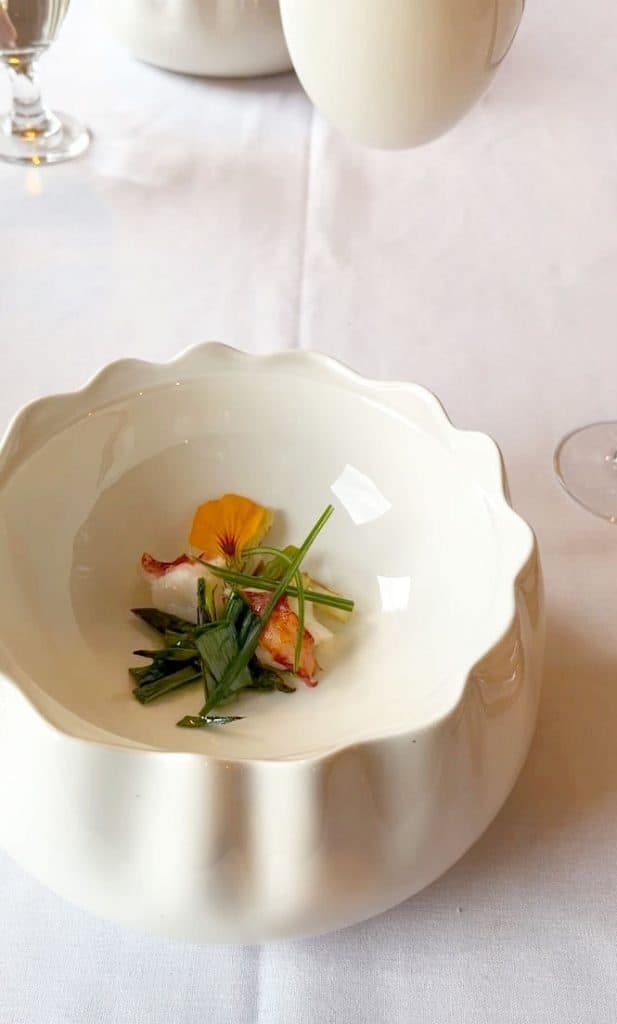 That feeling rises from the bowl and overlaps with the moment, evoking a sense of nurturing and nourishment I hadn't felt in a long time. If there is one more wish I would ask the kitchen to grant, it would be this: to serve me this dish over and over again.
And that is the fun of the tasting menu experience—when you land on a sip, bite, or sniff that makes you feel something even larger than this grand dining room of yesteryear. It is a moment that reminds me of who I am, where I come from, and what I bring to this table today.
These dishes will shift and change in tandem with seasons and harvests and all things fresh, and they will weave another tale with a wizard's precision. If you come to this meal ready to discover a favorite flavor, I suspect there will be at least one dish, likely more, that will similarly thrill you.
Asparagus can be notoriously tricky to pair with wines, often giving them a metallic harsh taste. The crisp white Shaya Verdejo from Spain is clean and straightforward and lets the vegetables and shellfish take center stage. Its delicate acidity and crisp taste make it friendly with just about everything and everyone at the table. And you can't deny it looks pretty, too.
The winemakers tell a charming origin story for this wine. A deer trotted by as they sat and pondered its name. They named it Shaya after a deer at a nearby wildlife rescue. It matched their idea of recovering the authentic Verdejo of the region and reminds me of Miraval Berkshires' Meadowview Acres Farm, which also shelters several rescued horses, donkeys, and birds.
Each component of this course could stand on its own. But it doesn't matter which one we single out—lobster or asparagus, Verdejo or velouté, chef or sommelier—the dish is the star. It's an ensemble performance.

The Showstoppers
Pan-seared Cape Cod Bay scallops follow with a seductive and flowery Sancerre from France's organic and biodynamic Mellot Vineyards. Cauliflower adorns each circle, prepared in four different ways (pureed, sautéed, tempura, and pickled) while pea shoots and balsamic caviar add a splash of color and flavor. I can feel the strands of the perfectly cooked scallop peeling away like a string cheese, taking me back to the clambakes and cookouts of my youth.
In any great performance, there is a showstopper moment, and here it's the local Hudson Valley duck paired with a red wine blend of ripe currant, red berries, and smoky aromas. Served two ways, this course delivers a wild sweetness and savory base with every bite. Under different circumstances, this would be a completely satisfying entrée all on its own.
The Big Finish
The chocolate gateau is like the clanging of cymbals at the end of a performance, but the meal's finale is a mystical recapitulation in the form of another plate of perfect tiny cubes.
Chef Justin and his team have cleverly shifted the color wheel, spinning it to the opposite spectrum, from an earlier course's peachy mosaic to the dark brown tones of cacao, coffee, and caribe contrasted with shimmering hues of white. These house-made sweets—lemon and honey truffles (straight from Miraval's on-site apiary) and lychee pate de fruit— come sprinkled with cocoa nibs dusted with edible gold luster.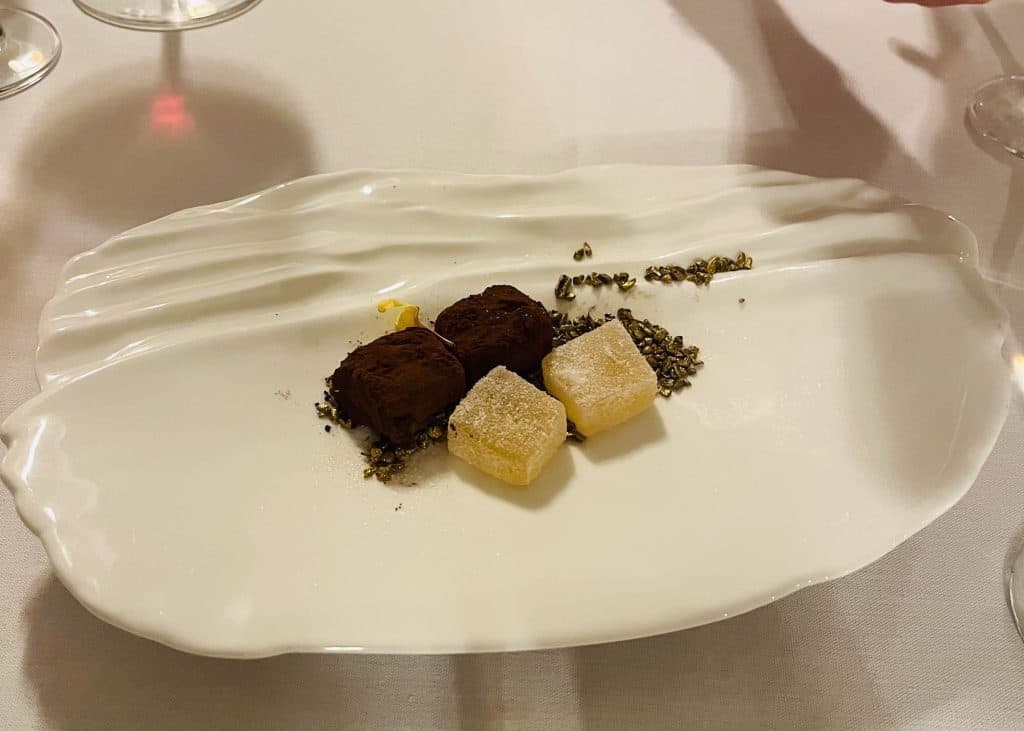 What an exquisite way to restate the meal's themes. The plate resembles a seashell, with rippling waves at the top and a shore below, awash with shipwrecked shapes. The bright, airy mosaic that kicked off the feast is transmuted and distilled into rich unregulated squares, lying in an ecstatic heap and glowing with the wisdom gleaned from a celestial meal.
Like the end of a long summer day at the beach, the tide turns us out to the shore and sends us to bed with full bellies, sailor songs, and stardust. This little plate sparkles with fantasies of ingested magic, memories to savor, and dreams to digest. Even the mignardises' golden flakes have settled into a delicate mantle of dusky metals, glittering on a sandy beach with the sublime colors of sunset.
Fine dining is so much more than having an abundance of good food on elegant china. It's about the voyage we take to discover our reactions and emotions to edible creations translated into new and unexpected combinations. Like any fine art, it is not static; it's an ongoing dynamic relationship between earth and kitchen, farmer and chef, plate and diner. Because every sip and bite—from bâtard to baby beets—becomes part of our essence and continues to shape who we are and who we become.
Miraval Berkshires' 1894 Tasting Menu gives us a chance to attend a sonata of the senses, a halftime show of twinkling lights, an epic legend of clinking glasses, colors, textures, and tastes that dance in choreographed arcs and culinary flights of fancy.
*Also offered as a fully vegan tasting menu.
**Zero-proof beverage pairings available upon request.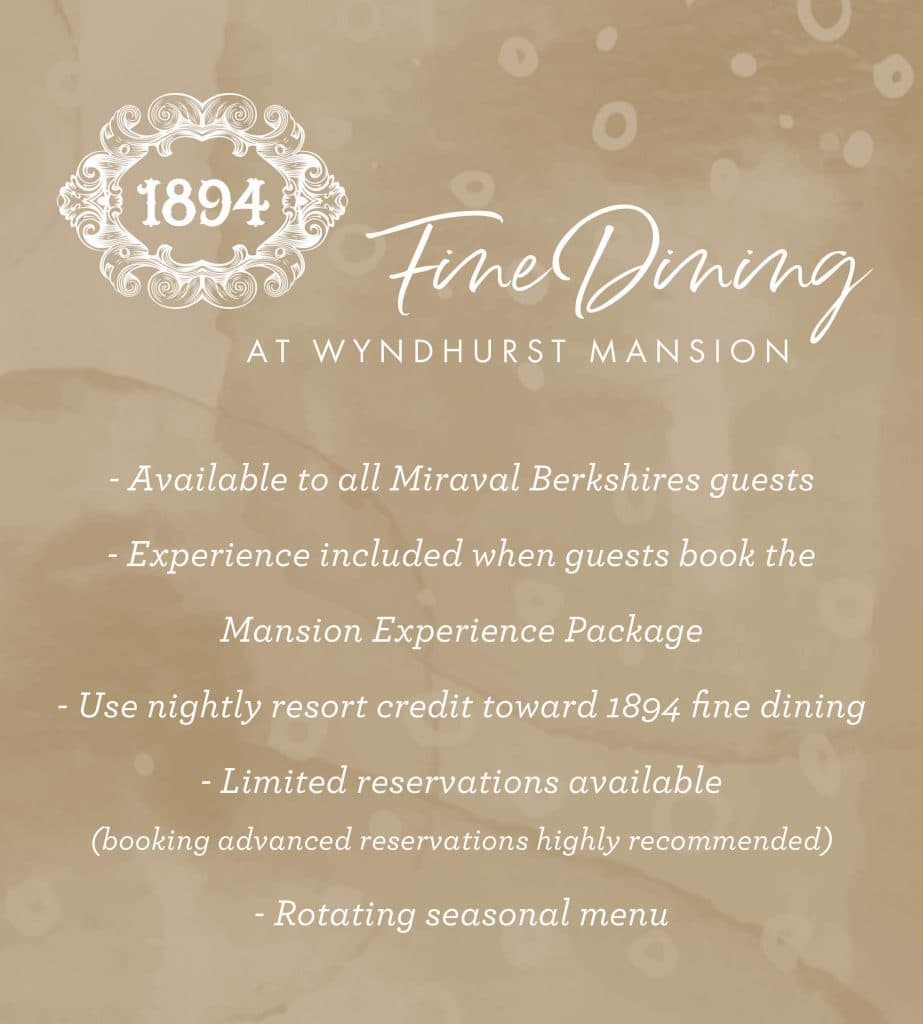 ESCAPE TO THE GILDED AGE
Step into the Gilded Age at the Wyndhurst Mansion and receive complimentary fine dining at our gourmet restaurant, 1894. Enjoy luxurious and historic accommodations that will transport you to a bygone era. All meals, snacks, and non-alcoholic beverages are included in your stay.
Find out more


About the Author
Araxe Hajian
Araxe Hajian is a senior writer who covers wellness stories and specialist offerings at Miraval Resorts & Spas. She was associate editor and writer at Life in Balance Magazine, storyteller at the social platform MindMeet, and author of numerous articles and Miraval Resorts' coffee-table book Miraval Mindful by Design.