Miraval Austin: Wellness in the Texas Hills
By Araxe Hajian
Discover how Miraval Austin differs from our other properties by clicking on the categories below.
What Makes Miraval Austin Unique?
EXCLUSIVE OFFERINGS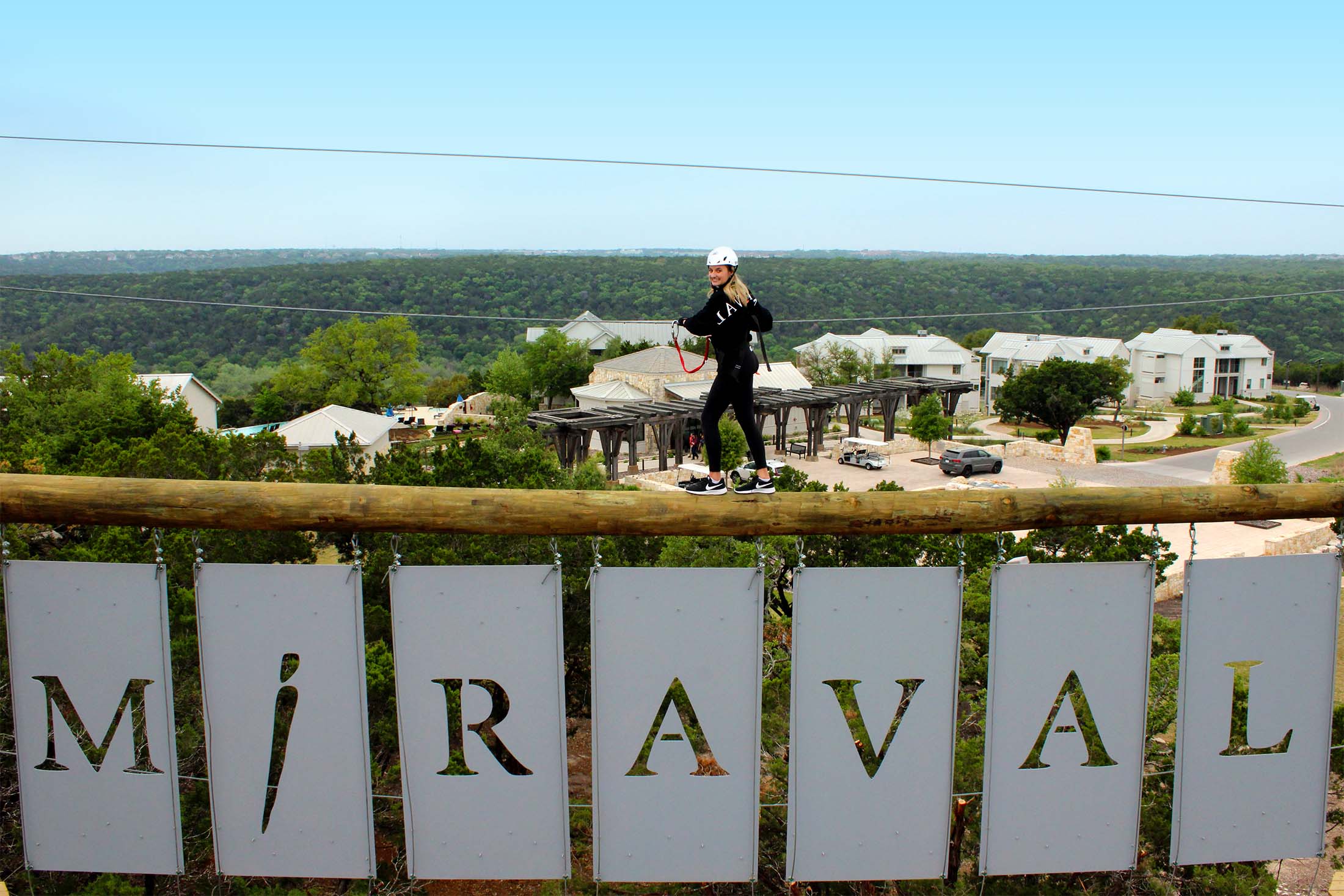 Blue Heron Challenge Course: Miraval Resorts' newest high ropes course sends you soaring to new heights.
Cypress Creek Farm & Equine Center is a hidden jewel located across the street from the property's main entrance and offers hands-on workshops and tours where you can get up close with chickens, horses, and the season's current harvest.
Unique Artistic Expression offerings include Suminigashi-style paper marbling and cyanotype photographic printing.
Solidago Sanctuary: This sacred space was built to hold the energy of light and flowing water and to serve as the original property's spiritual center. Many of our Spirit & Soul private sessions and workshops are held here.
Our Equine program lets you ride horseback. Miraval Austin is the only Miraval Resorts property that offers multiple on-property riding opportunities and lessons.
Our Culinary team features the only Miraval Resorts chef who is also a registered dietitian and licensed nutritionist.
Himalayan Sound Bowl sessions at Miraval Austin are led by the only Miraval Resorts specialist certified by the famed Atma Buti School of Sound Healing.
Texas Hill Country's Best Hiking & Biking Trails
GREAT FOR FOR GROUPS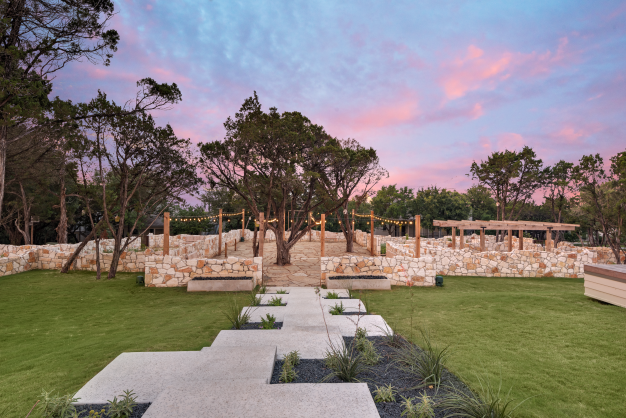 Miraval Austin is ideal for mindful meetings (leadership, team bonding, incentive trips, and company retreats) or social gatherings (friends' getaways, reconnection trips, milestone celebrations, and bachelorette/bachelor events).
Sensory Gardens and the Discovery Pool are ideal backdrops for al fresco group dining and mingling while taking in breathtaking sunsets over the Hill Country landscape.
The Live Oak Center is a dedicated meeting space and was part of the original property, specifically designed to bring guests together privately to share ideas and bond. The center includes Fireside, a warm lounge with a candlelight bar and fireplace for guests to gather.
DISTINCT DINING & MINDFUL MEALS
Southwestern Fusion at its Finest
Everything is bigger in Texas—including our plates. Miraval Austin serves up a sumptuous supper that's good for you—and includes surprises, like our famous cuts of local steak—with menus that are 80% plant-based. Be sure to save room for dessert—our pastry chef concocts confections our repeat guests know not to miss.
VENUES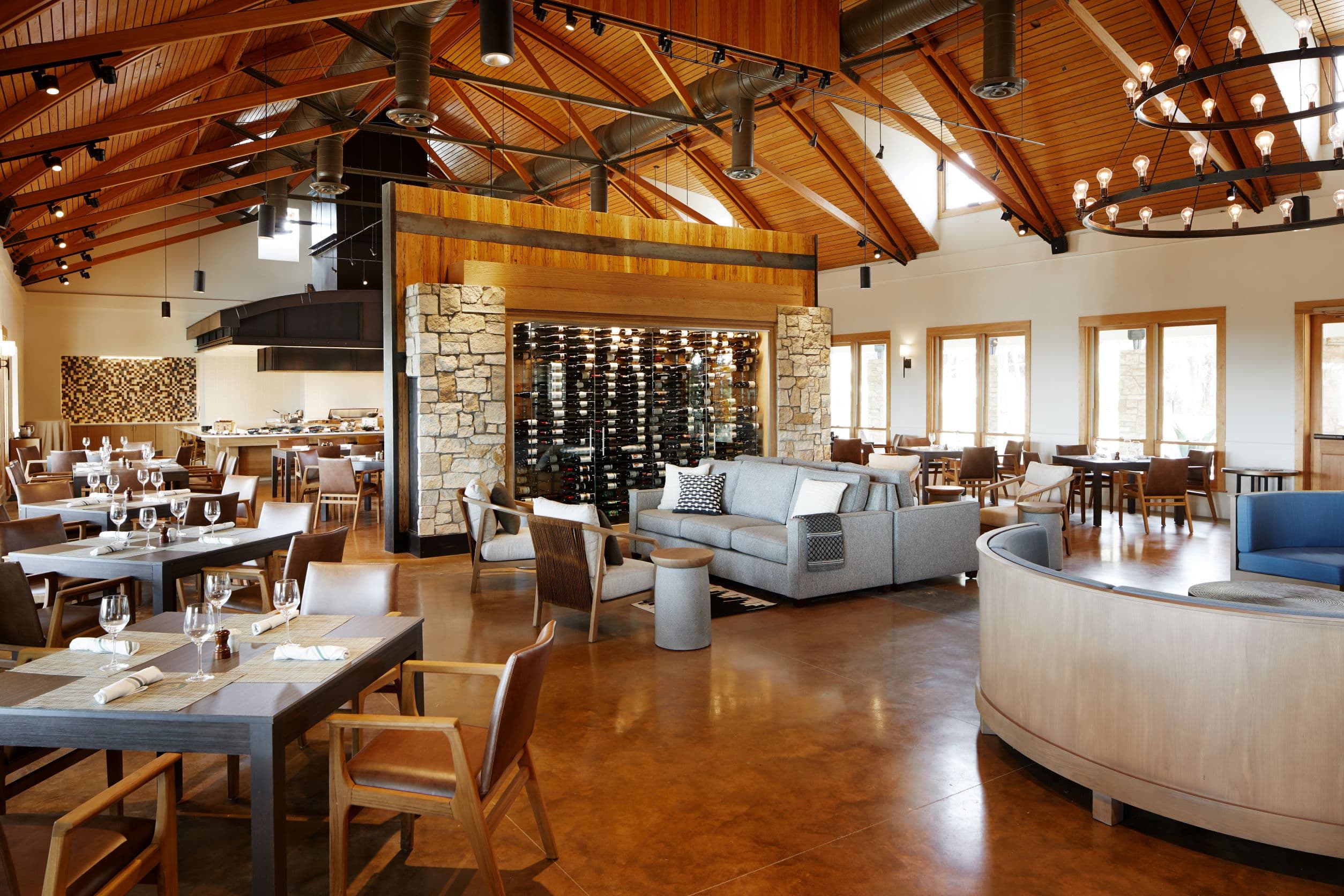 HILLTOP CROSSINGS KITCHEN, our main dining room: Eat outside under a giant cedar tree on a terrace overlooking the Texas Hills. You can also dine inside by a roaring fire at one end or perch at the Chef's Counter at the other for a glimpse of the bustling kitchen. Chef Ben's culinary team is always ready to answer your questions—and might even tell you a story. Each staff member contributes an idea or dish to the seasonally changing menu and will proudly tell you which items from Cypress Creek's weekly harvest influenced which dish. With fresh produce ranging from beets to bok choi, Miraval Austin's farm-to-table experience is unrivaled.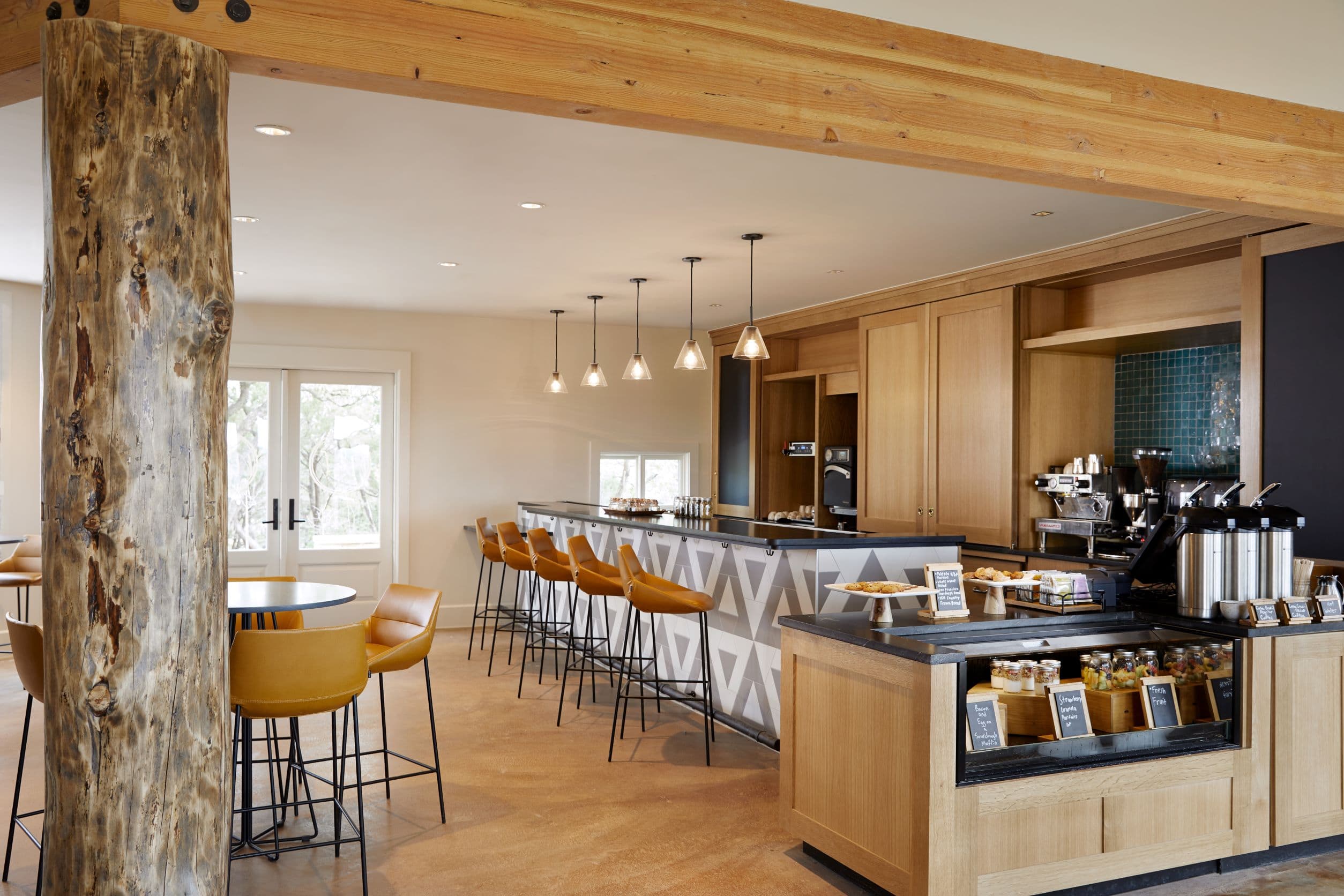 NEST CAFÉ & BAR: Transformation at Miraval Austin isn't only spiritual. We like to switch things up spatially, too. The Nest is your one-stop coffee, smoothie, and snack counter by day and swanky bar at night.
THE NOOK: Host an intimate family gathering or professional party at this alcove for private dining. Create conviviality among friends, family, or peers.
DISCOVERY POOL CAFÉ: Sip freshly brewed kombucha and snack on small bites while you soak up the Austin sunshine.
FUN FACT
The Sourdough Secret: Miraval Austin is famous for its sourdough, whose starter was hand-carried from San Francisco's legendary Larraburu Brothers Bakery to Texas.
NATURAL SPACES
Blue Heron Challenge Course: Challenge yourself on Miraval Resorts' newest high ropes course.
Cypress Creek Farm: Our brand's largest farm showcases biodynamic farming at its best.

Follow trails or explore our indoor arena on horseback—this is home to the only Miraval Resorts herd specially selected for riding.
Feed chickens or collect fresh eggs as you learn the techniques that keep our kitchens stocked with home-grown, organic produce for your meals.
Go beyond our animal connections or garden skills offerings and try swinging in outdoor hammocks with aerial yoga at the farm.

Sensory Garden: Surrounded by weathered stone walls, naturally wooded gardens, flagstone paths, fountains, and inviting fire pits, this is your meditative garden for a relaxing mid-day lunch or walk. If you sit still long enough, you might spy a ruby-throated hummingbird or white-winged dove.
SIGNATURE LIFE IN BALANCE SPA
Miraval Resorts' second largest Life in Balance Spa offers exclusive treatments you won't find anywhere else.

Sukha, a new Thai-adjacent service, uses suspended silks to carry you into bliss.
Pranayama Dina, a floating aerial massage, transports you with breathwork and massage techniques.
Austin Apothecary Massage takes you on an aromatic journey of the senses.
Body Rituals, including Flourish, the Middle-Eastern-inspired Hammam, and Kokoro (the Japanese art of caring for the body), join our unmatched menu of ceremonial services —Moondance, River Flower, and Wild Berry—that feature naturally sourced ingredients.

Sample Laurel Skin's Pecan Petal Mask, designed only for Miraval Austin, with locally harvested, all-natural ingredients. It's used in several treatments, and you can take home a jar to enhance your self-care routine.
Miraval Austin's bright Spa Quiet Lounge boasts exquisite Lake Travis views and an adjacent outdoor pool.
CONTEMPLATIVE SPACES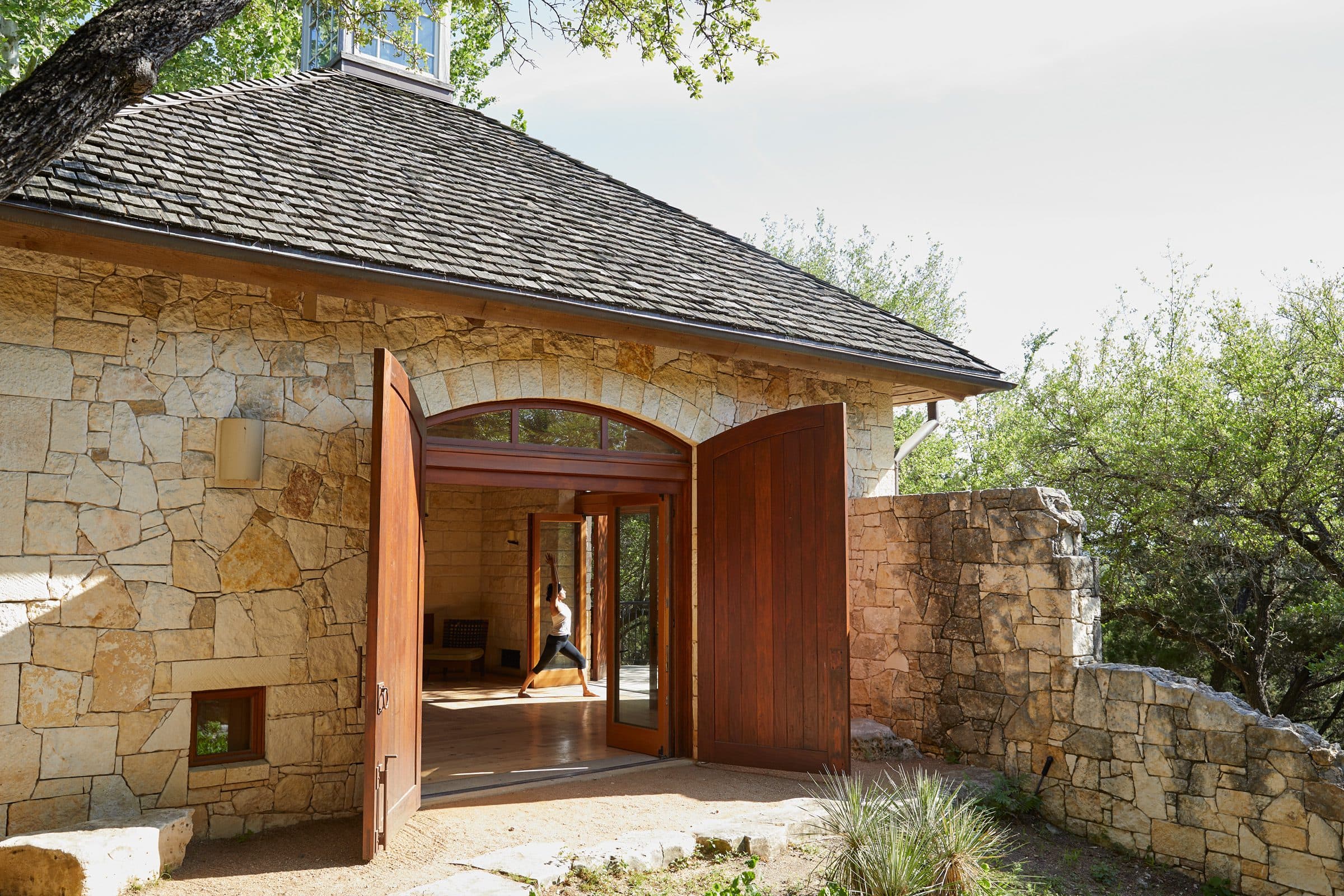 Solidago Sanctuary: This space is located next to the Sanctuary Cove accommodations and can be visited for a self-guided exploration throughout your stay. Solidago, also called goldenrod, is a local flowering plant that some consider a sign of good luck or fortune.

At Winter Solstice, guests sit on its stone entry steps and watch the sun set precisely in the doorway's center along the treetop view.
During construction, multiple work crew members' wristwatches stopped working. Nicknaming it "The Place Where Time Stops," they cemented a motionless watch into one of its stone walls.
Solidago's door-within-a-door concept asks you to leave your backpack of collected burdens behind to explore new realms. You enter through a wide doorway with all your "stuff" and exit through a smaller portal with just enough space for your unencumbered self.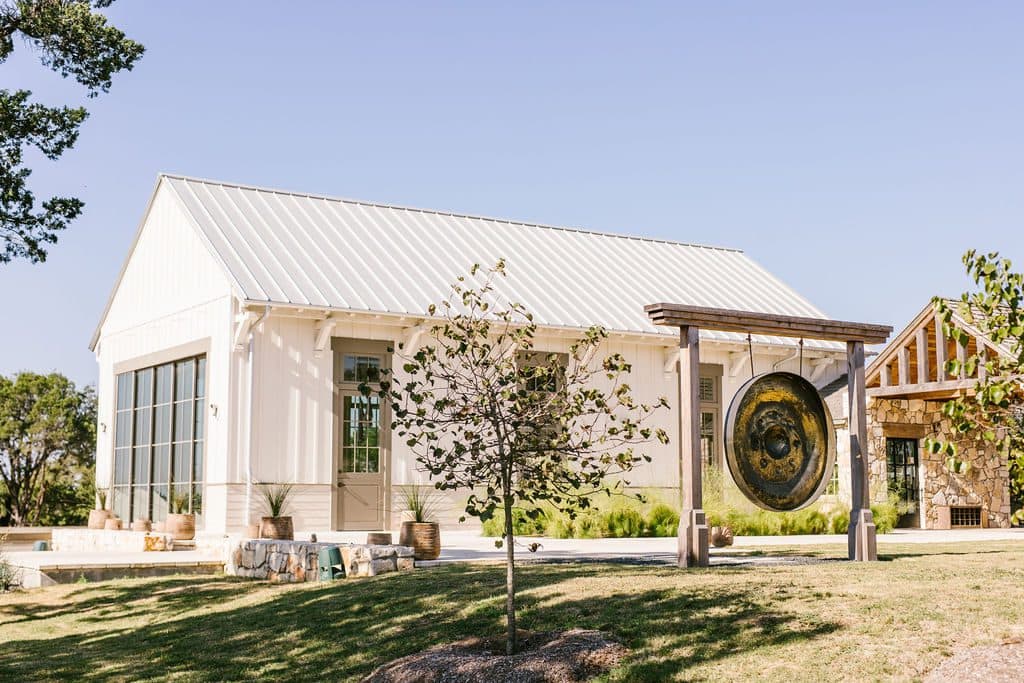 Yoga Barn: This unique structure was built exclusively for Miraval Austin's yoga and meditation program. A floor-to-ceiling wall of windows enlightens each practice with its golden glow.
Sofia Labyrinth: Miraval Austin's newest labyrinth (one of three!) takes its name—meaning wisdom—from Ancient Greece, a culture whose mythology elevated the labyrinth's circular shape to a symbol of walking meditation and contemplation.
Infinity Pools: We have two! Plus, a poolside waterfall and a guest-favorite spot for watching the sunset with an afternoon cocktail.
WHERE TO STAY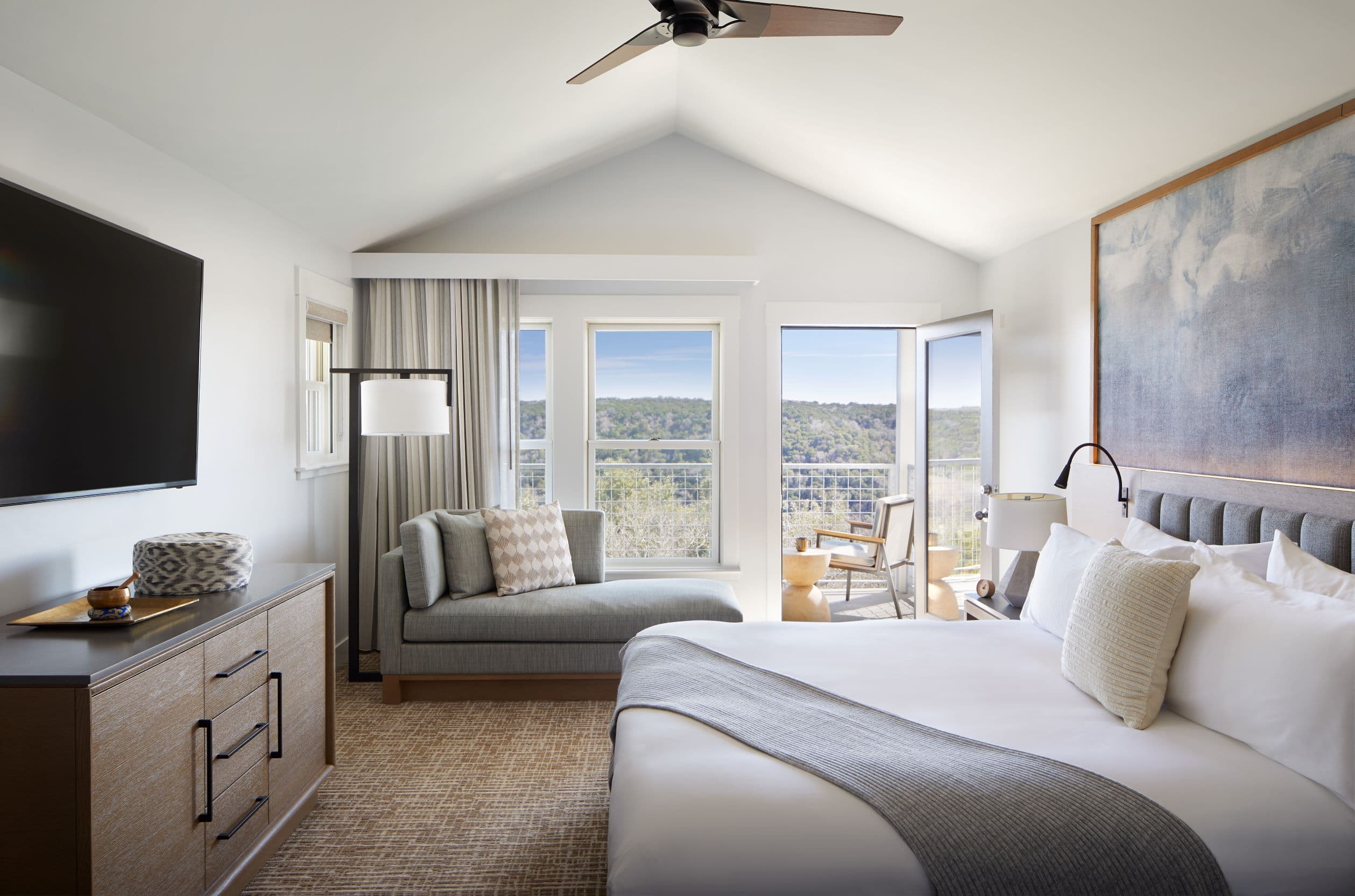 With the serenity of Balcones Canyonlands Preserve as their backdrop, our comfortable cove-like residences offer a range of options, including outdoor patios.
ROOMS: Our 17 rooms span 13 separate lodges connected by meandering open-air paths. Each room is directly accessible from outside, with private outdoor space and inspiring views of majestic trees, the calm waters of Lake Travis, or our peaceful nature preserve.
SUITES: Our suites offer more space and a residential-style design that feels handcrafted. Whether you need a private parlor to gather with your group or simply want some extra space, you'll have plenty of room to breathe, meditate, or slumber soundly.
WHERE IS IT?
The cool, creative character of Austin's vibrational energy informs our unique wellness offerings. Located just 20 miles northwest of Texas' capital city, Miraval Austin lets you luxuriate among meandering trails that hug the hillsides.
This 220-acre natural sanctuary overlooks Lake Travis and the tranquil Balcones Canyonlands Preserve, blending naturally into the native landscape.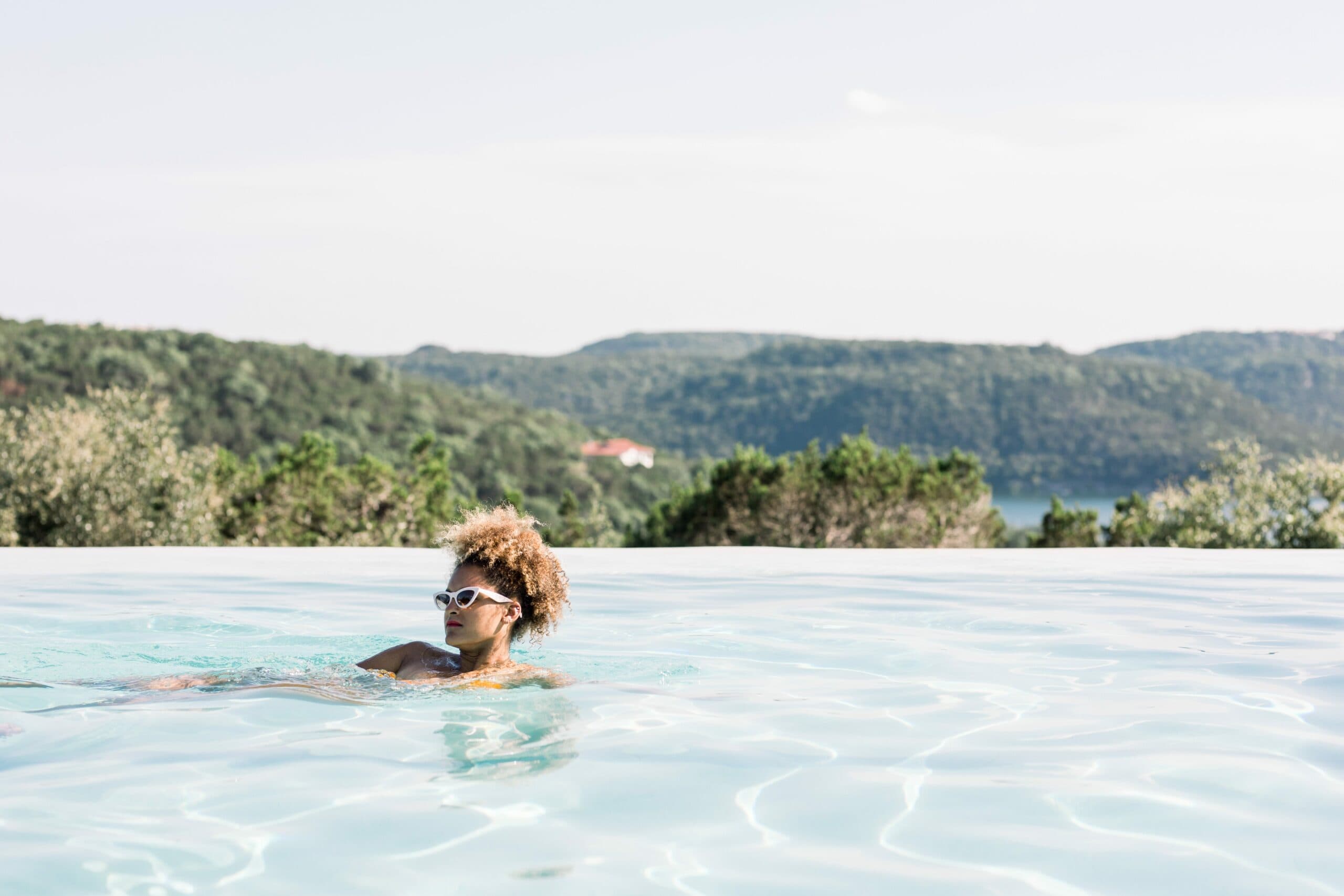 HOW IS THE WEATHER?
Austin enjoys comfortable temperatures for much of the year, with high temperatures in the range of 70-85°.
Summer High: ~95 degrees in July
Winter Low: 38 degrees in January
Rain:averages 35 inches/year
Snow:averages 0 inches/year
Sunny Days: 228/year
WHAT TIME IS IT?
This is the current time at Miraval Austin
Miraval Austin is on Central Standard Time (CST)
HOW TO GET HERE
Closest Airport: Austin-Bergstrom International Airport (AUS).
We offer complimentary shuttle rides to and from the property from Austin-Bergstrom Airport (less than 28 miles or a 30-minute shuttle drive, depending on traffic).
Closest City: Austin, TX
Convenience: Austin has over 100 direct flights daily from all major cities, making it the perfect central destination for bringing groups together from all over the country.
LOCAL LORE
Austin is known as the Live Music Capital of the World® and hosts two major music festivals: Austin City Limits each fall and South by Southwest in spring.
Austin is also home to the University of Texas, Dell Computers, and other major tech companies. 
HABITAT: Texas Hill Country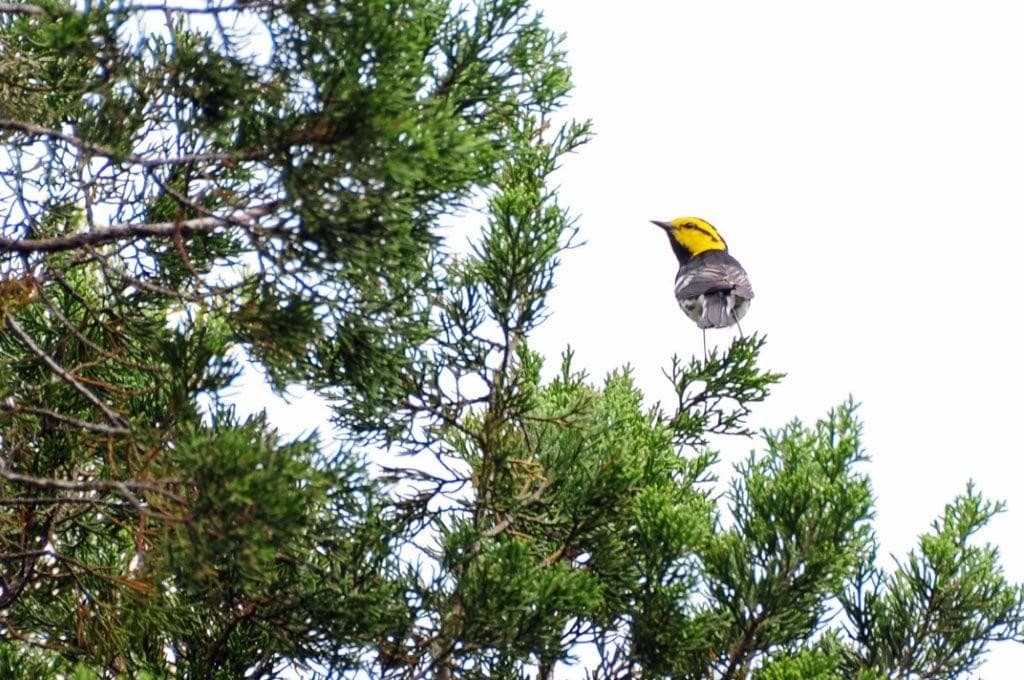 Wildlife

Many Texas birds make their way home to Miraval Austin's mighty oaks and sturdy cedars. We serve as a refuge for several endangered species, most notably the golden-cheeked warbler.  The entirety of the Miraval Austin property is in its habitat—the only place in the world this tiny bird nests upon its migratory return from Mexico each year. Read more about Miraval Austin's birds here.
You might sight other local creatures, including wild turkeys, bats, white-tailed deer, antelopes, armadillos, and salamanders.

Trees & Blooms

Wildflowers flourish across the Texas Hill Country, including bluebonnets, red poppies, purple tansy, ox-eyed daisies, and wine cup flowers. The blooming season runs from mid-March through mid-May, depending on rainfall and temperatures during the winter months.
Thanks to Lady Bird Johnson's Highway Beautification Act of 1965, wildflower seeds were planted along roadways across the United States—and especially throughout her home in the Hill Country—as part of her belief that "where flowers bloom, so does hope."
Geography

Lake Travis: Exclusive access to this freshwater lake lets you kayak, canoe, paddle board, and fly fish. Miraval Austin is the only Miraval Resort that offers fly fishing classes and excursions.
Balcones Canyonlands Preserve

The adjacent Balcones Canyonlands Preserve encompasses 100,000 acres and serves as a refuge for several endangered species. This refuge also helps to protect water quality in central Texas and lies just north of Lake Travis, the drinking water reservoir for the Austin metro area.
Of Miraval Austin's 200-plus acres, 170 will never be developed. The original owners worked with the Conservancy and modified state law to preserve the natural landscape in perpetuity.
HISTORY & HERITAGE
Miraval Austin began as a spiritual quest for Ken & Joyce Beck, who created a progressive learning center and spiritual oasis here in 2003 to provide new experiences to expand thought and inspire people to explore conscious and healthy choices in personal, work, and spiritual lives.
The resort reopened in 2019 as Miraval's second wellness resort. Miraval Austin strives to keep the spirit of the original creators' vision alive as a crossing space for shared ideas among bright minds and deep souls.
SENSES & SURROUNDINGS
Texas Hill Country architecture blends harmoniously into the native landscape at this property that loops around in a horseshoe-shaped layout.
Terracotta-stained concrete suggests the deep reds of the earth. A mosaic in the front entryway takes the shape of a circle, echoing the concept of infinity and imagining water seeping up from the ground.
Property Tour
BOOK YOUR STAY
Explore our packages, see what's included, and start planning your stay. It's all about you, and giving you the best value for your wellness journey.
BOOK NOW