Miraval Arizona: Wellness in the Sonoran Sun
By Araxe Hajian
Discover how Miraval Arizona differs from our other properties by clicking on the categories below.
What Makes Miraval Arizona Unique?
EXCLUSIVE OFFERINGS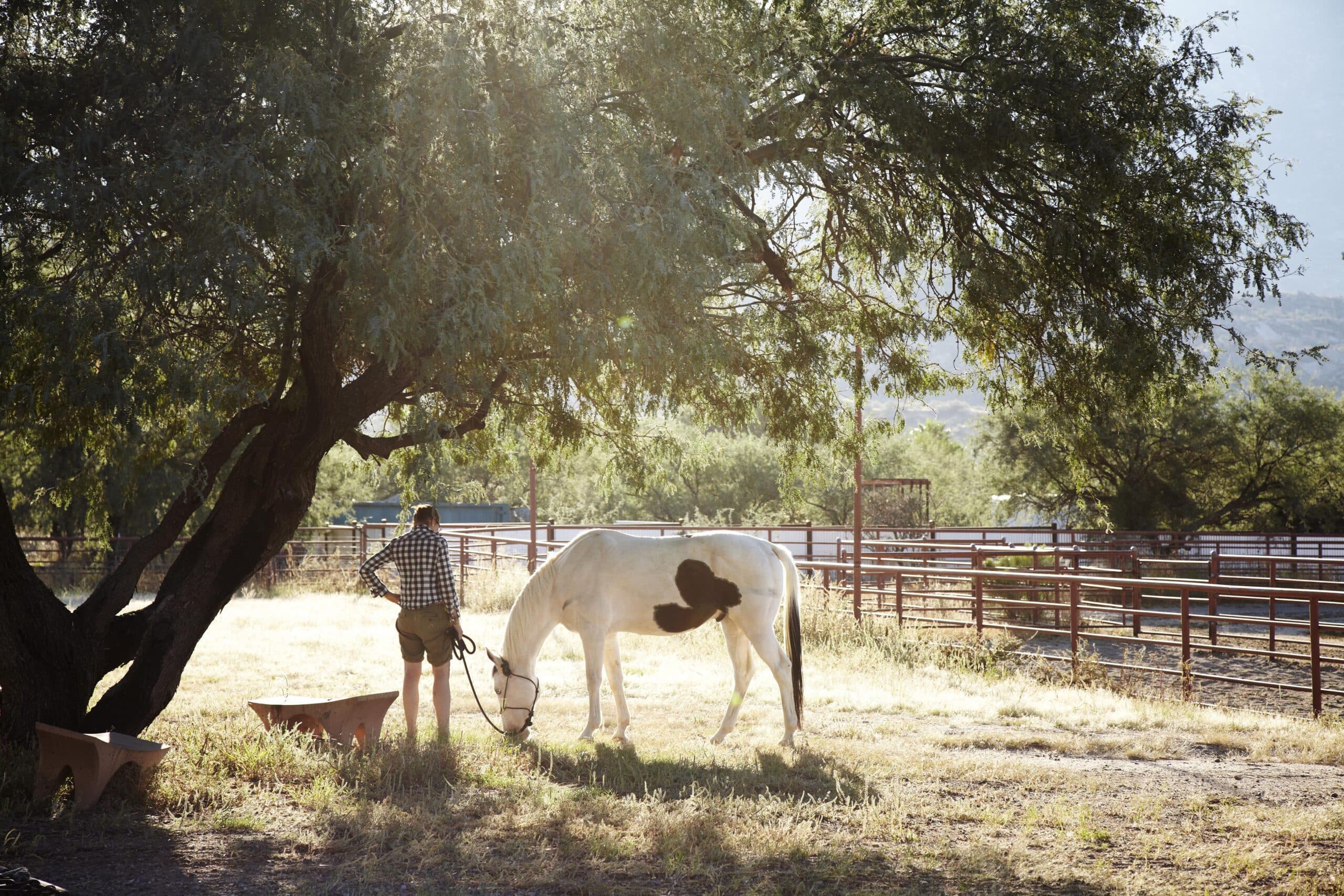 Holographic Memory Resolution is a unique and ground-breaking trauma therapy overseen and administered by world-renowned trauma specialist Brent Baum.
Miraval Arizona's equine herd is unique because the horses here are companions in our Equine Therapy program and are not available for mounted experiences or trail rides. For mounted offerings, try out our Austin and Berkshire properties.
Arizona's Best Hiking & Biking Trails
Miraval Resorts' only dream specialist offers workshops and private sessions to help you connect to and interpret the images and narratives that come to you in your sleep.
New Life Village Outdoor Treatment Rooms (part of the Life in Balance Spa): Enjoy select spa services in an outdoor setting with our private fresh-air cabanas that offer a balanced fusion of enclosed comfort and elemental exposure.
The Retreats & the Villas: Sophisticated & expansive private living spaces for the ultimate in luxurious accommodations.
Pickleball & Tennis Courts: Enjoy at your leisure or sign up for a private lesson or group workshop.
THE GREAT OUTDOORS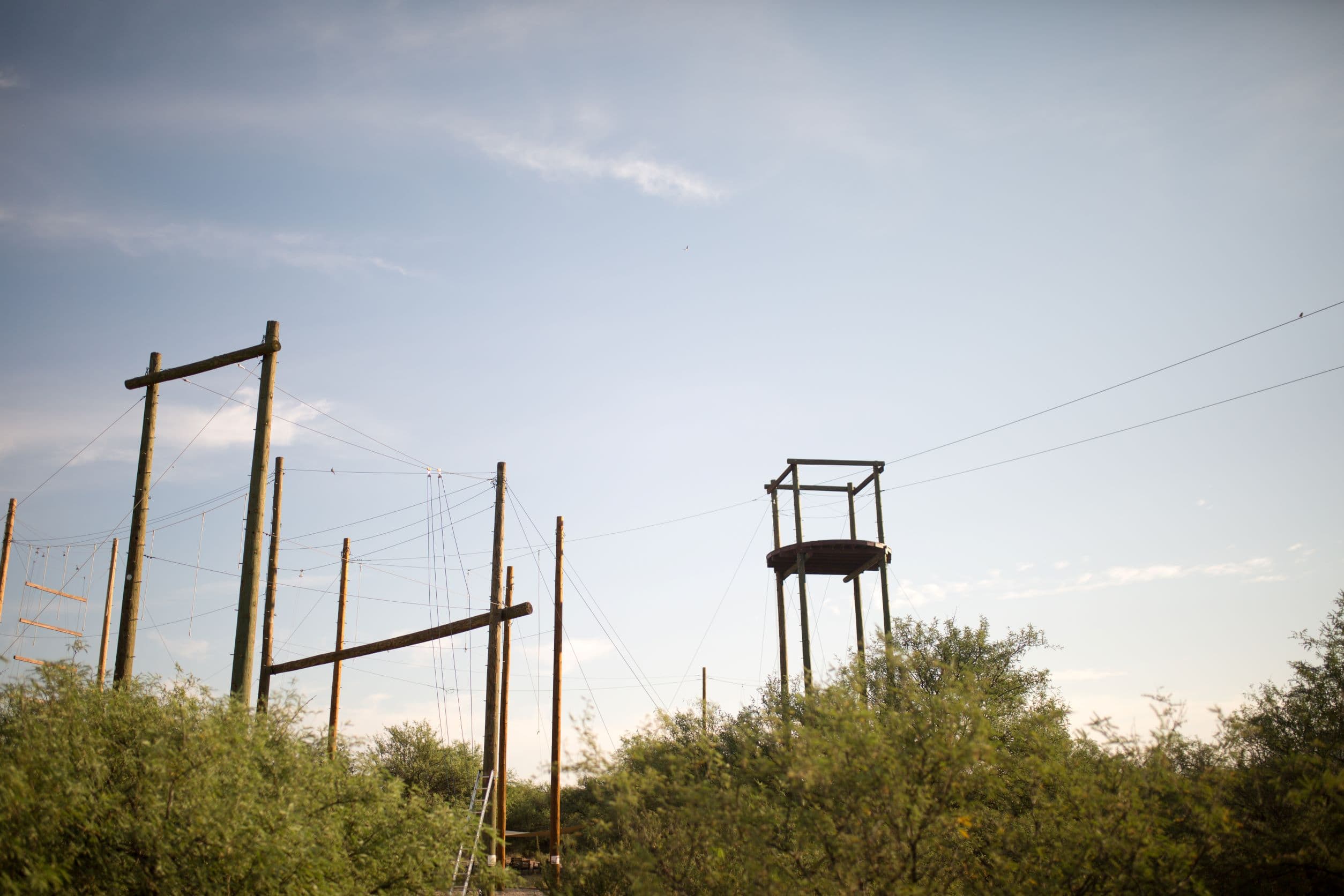 Purple Sage Ranch: The flagship ranch launched founder Wyatt Webb's famed Equine Experience and formed the foundation for Miraval Resorts' equine program.
Upgraded Challenge Course: Updated elements bring this original challenge course into the present with modern upgrades, ziplines, and state-of-the-art technology.
Arizona's Big Sky: Despite its breathtaking beauty, the sky's enchantment doesn't end at sunset.

Miraval Arizona is adjacent to a designated International Dark Sky Places Program
With major astronomical observatories within close range, Tucson city leaders enacted an outdoor lighting ordinance in 2012 that limits the total light produced at night.
The Santa Catalina Mountains block out the city lights, making the transition from sunshine and blue sky to a spectacularly starry night.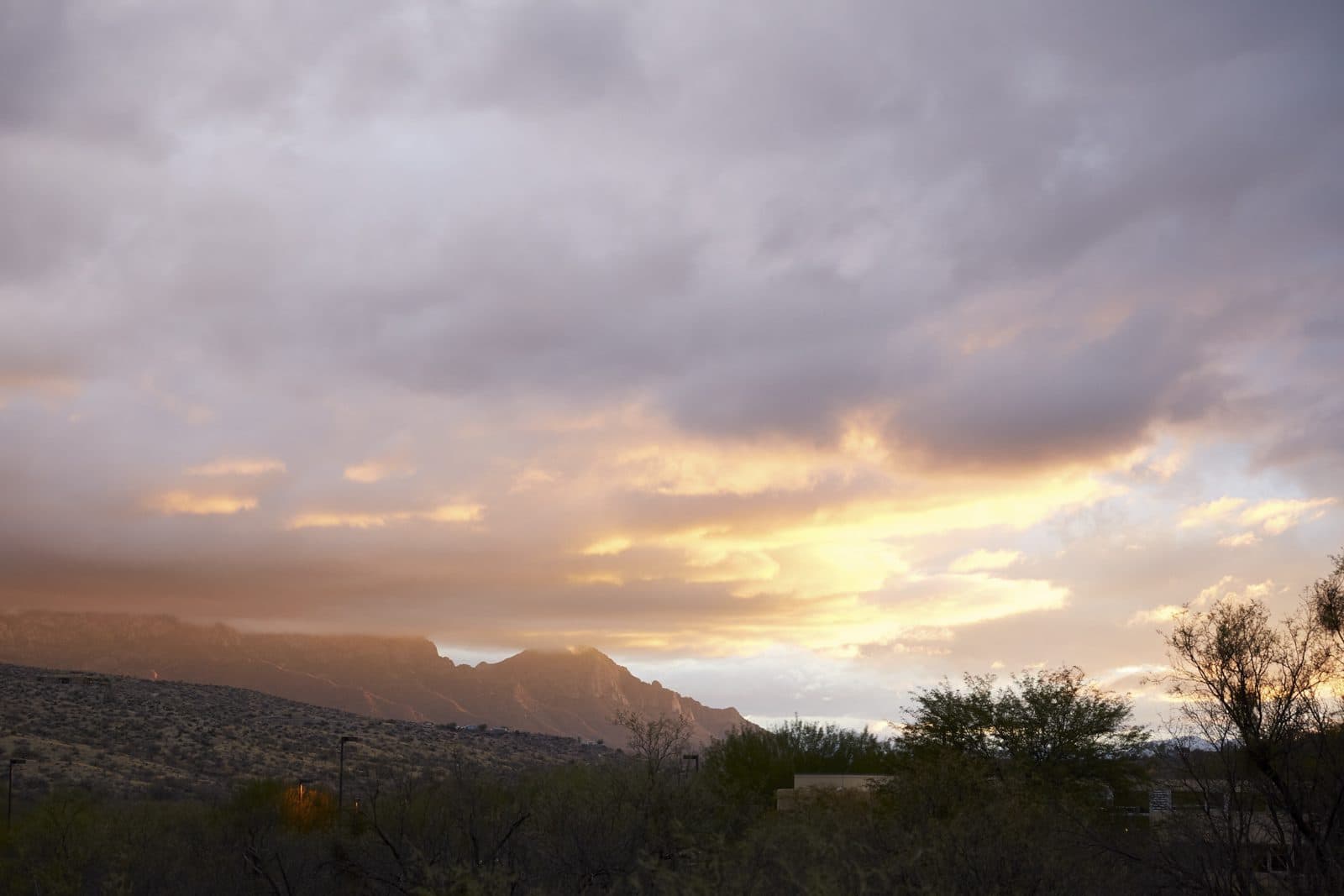 Summer Monsoons: From June 15 to September 30, monsoon storms roll across the Tucson sky with thunder and dramatic lightning bursts. During this magical season, prevailing winds switch direction and bring a surge of moisture, crimson skies, abundant rainbows, and fiery sunsets.

The native creosote plant releases a musky, earthy scent from its water-conserving leaf coating. Tucsonans love it and fondly think of it as "the smell of rain" in the Sonoran Desert.
Plentiful rain brings the desert to life with the prickly pear's ruby red fruit, which flavors our famous tea and garnishes margaritas—it might even be grilled on your dinner plate!
Ocotillo change from spiky spindles to leafy, flowering bushes
Rain chains and cisterns throughout the property collect rainwater for reuse and create a symphony of aquatic sounds.
DISTINCT DINING & MINDFUL MEALS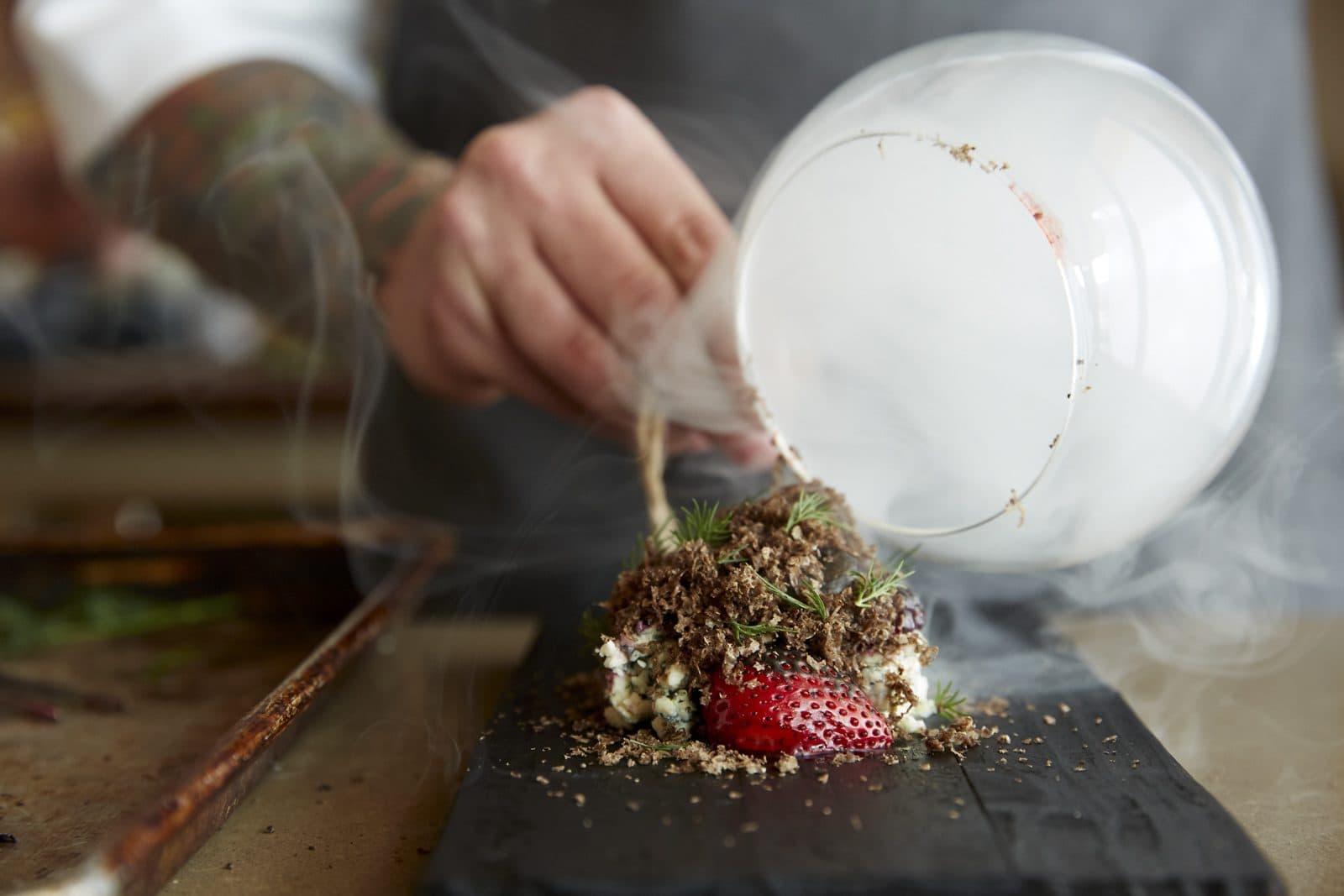 A Mindful Mix of Sonoran Aromas
With Mexico a short drive away, the spices of Sonora permeate our cuisine without overpowering sensitive palates. Subtle scents and flavors fuse with modern, mindful dishes to serve you food that sparks your senses with naturally nourishing meals.
Cactus Flower Restaurant: The newly renovated and reimagined space is a foodie's delight. With abundant outdoor and indoor areas, you can choose year-round al-fresco dining or the cozier corners inside. Be careful; hummingbirds and butterflies might perch on your morning lemon-glazed blueberry scone if you tempt them with the bright, bold flavors and colors of our southwestern-inspired cuisine.
Palm Court Café: This bright spot is a great place to start your day with a latte, a smoothie, or a grab 'n'- go snack to keep you company on hikes or outdoor adventures.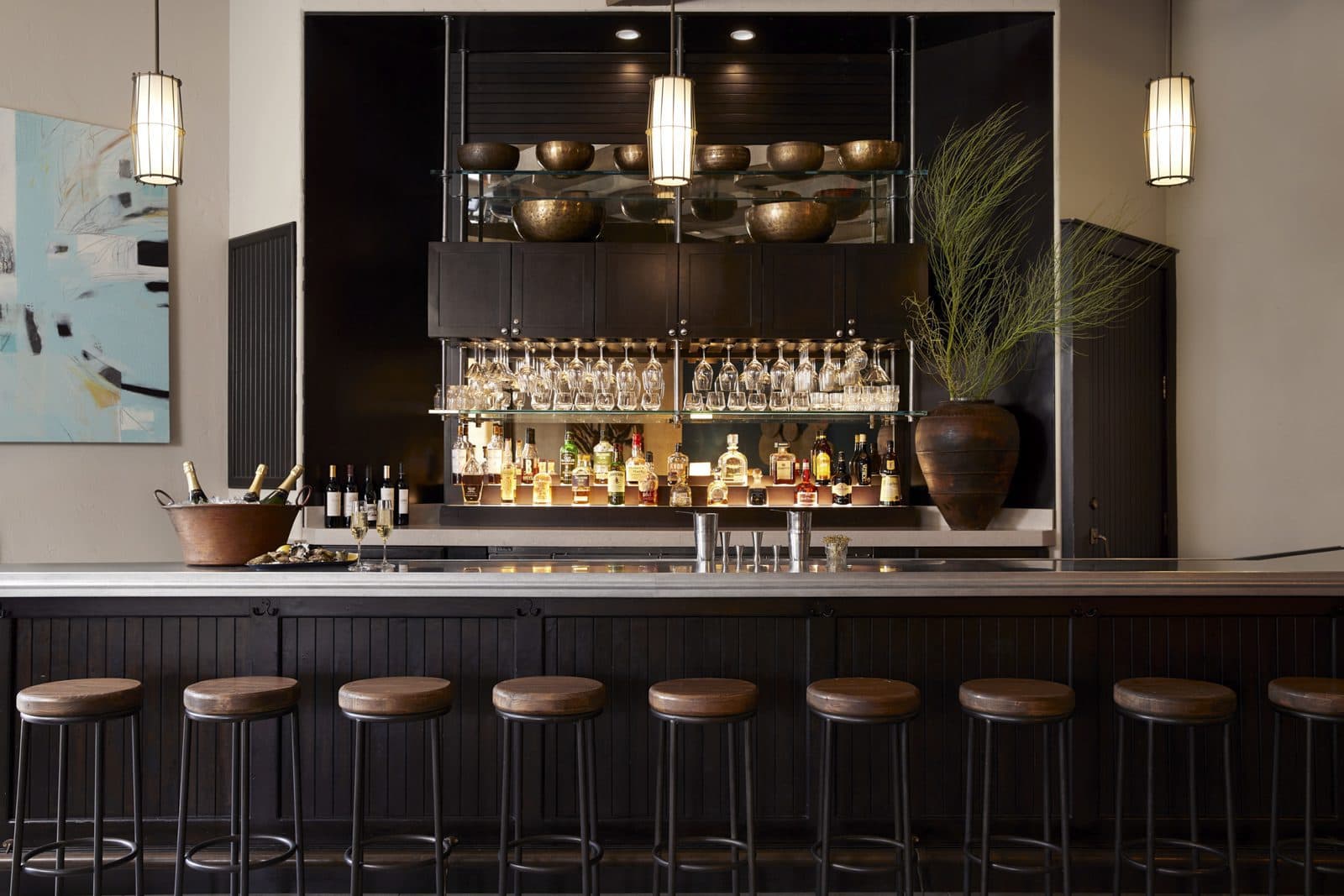 Coyote Moon Bar: This central hub for community and comfort surrounds you with a book-filled library wall and Actually Curious card games (created by Miraval Thought Leader Michael Tennant) for connection on tables. It's a cozy spot to read a book fireside or exchange stories and experiences over evening community appetizers and drinks—some guests even prefer dining here.
Oasis Bar: This refreshing and quenching poolside counter delivers delicious smoothies and snacks and is just steps away from the BMC and Life in Balance Spa. Soak up the sun and enjoy drinks and light or entrée-sized poolside bites for a perfect mid-day break.
SIGNATURE LIFE IN BALANCE SPA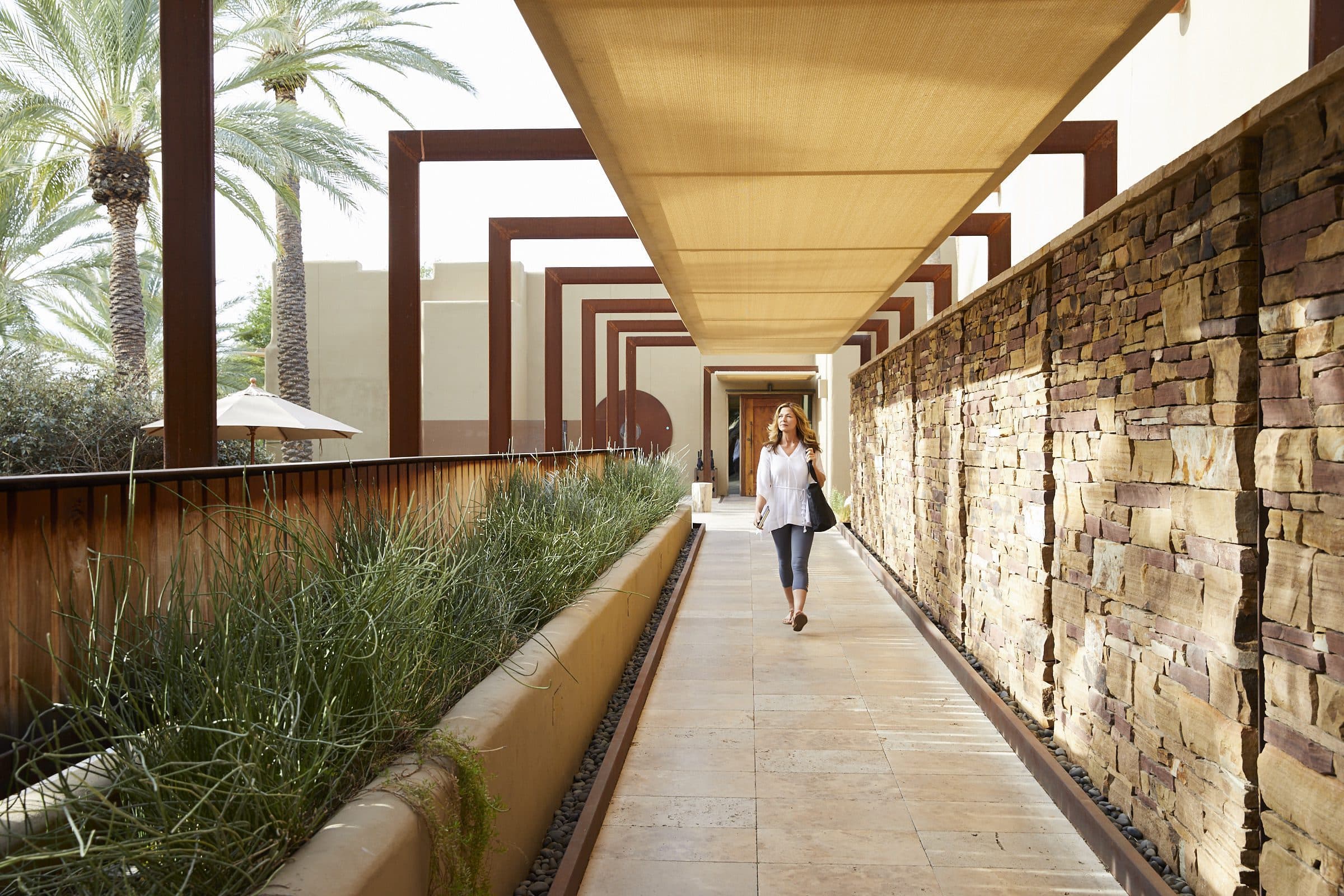 Miraval Resorts' original Life in Balance Spa offers services you won't find anywhere else. This is where Miraval Exclusive treatments like Naga and Vasudhara were developed. The soothing aroma of jasmine hovers in the air. Light fixtures mimic desert sunlight, and citrine and amethyst crystals radiate energy. A stunning spa balcony overlooks a saltwater pool, lounge, and spa pool with breathtaking views of the desert and surrounding mountains.
Sample Laurel Skin's Wolfberry Chia Serum and Honeysuckle Sage Elixir, designed only for Miraval Arizona with locally harvested, all-natural ingredients. They are both used in several treatments, and you can take home a jar to enhance your self-care routine.
Miraval Arizona treatments feature natural desert botanicals like prickly pear, Arizona clay, and purple sage for an unparalleled, whole-body experience.
An expanded menu of energy work and eastern practices includes Ayurveda, Thai massage, and newer acupuncture additions like SYNER-QI and Qi Awakening. Offerings like Mother's Blessing and Path of the Jaguar incorporate a fusion of native traditions and energy healing practices found nowhere else.
The original Deborah Lippmann nail studio features her signature manicure and pedicure, as well as a full line of her colors, all creatively named for songs.
CONTEMPLATIVE SPACES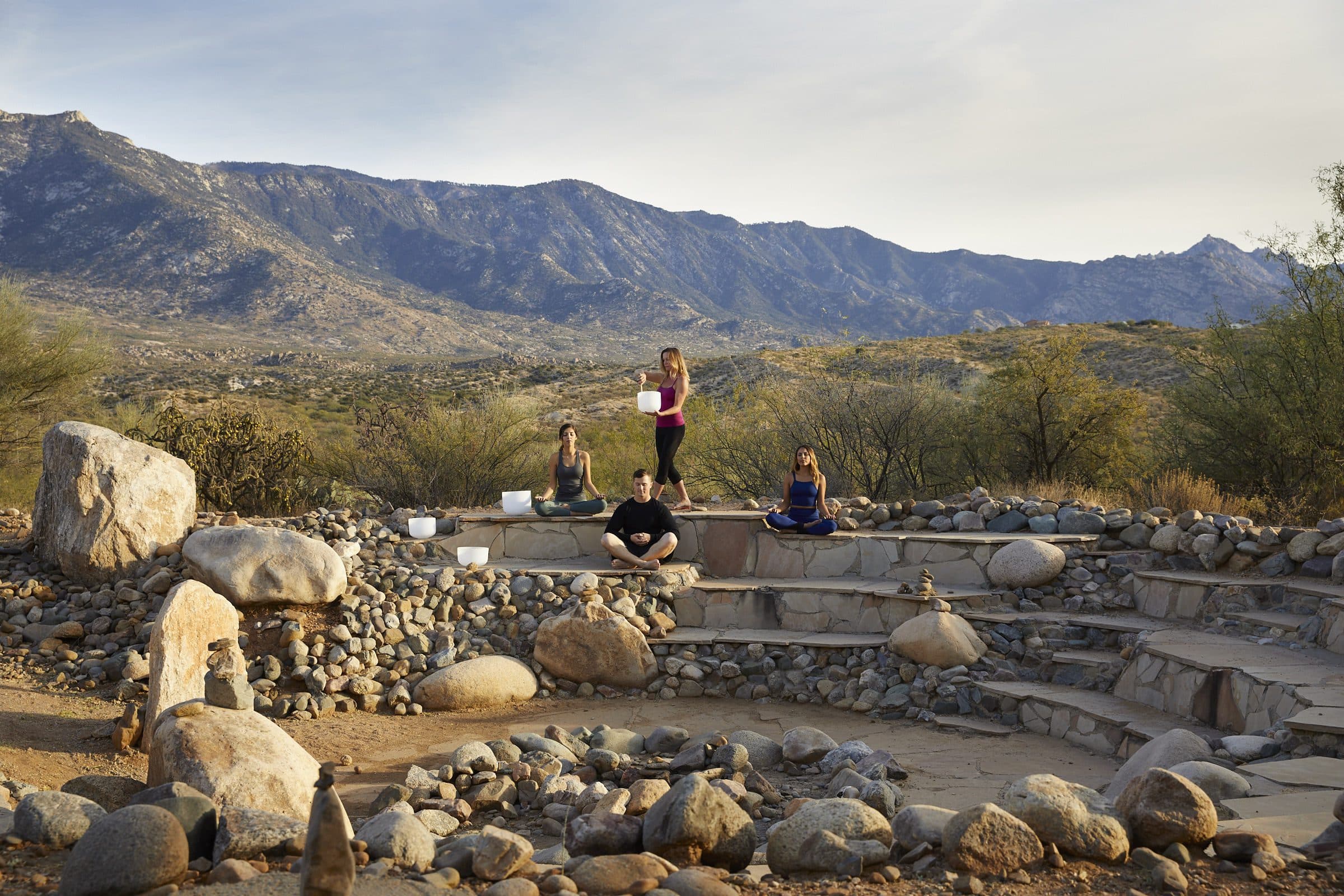 Mindful Journey Self-Guided Tour: This interactive pamphlet takes you on a tour of seven spots that highlight the seven pillars of mindfulness, including the Kiva, Labyrinth, Tibetan gong, Zen Garden, Crystal Bridge, Cairn Forest, Bird Ramada, and Hidden Creek
New Life Village Outdoor Treatment Rooms: Feel the soft breeze on your bare skin in private fresh-air cabanas that offer a balanced fusion of enclosed comfort and elemental exposure.
Yurts: These structures are ancient versions of the modern tent. Traditionally, nomadic tribes across Central Asia used them as mobile homes. Miraval Arizona's yurts let you experience ceremonies and offerings outside without the glare of the midday sun or our numerous local pollinators' buzzes and hums.
WHERE TO STAY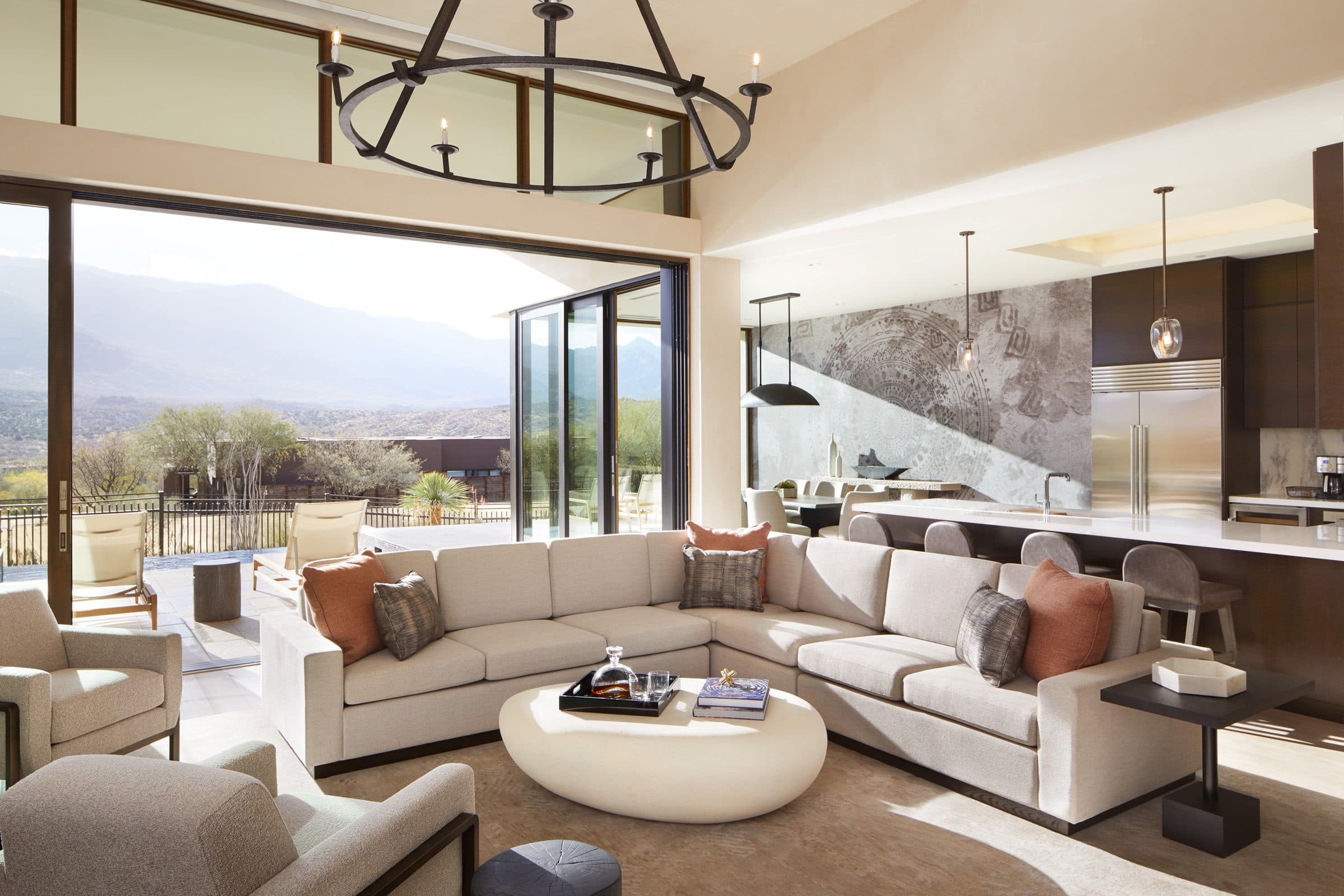 Rooms: Situated in a cluster of casita-style buildings and connected by outdoor pathways winding through the desert landscape, our guest rooms offer the perfect space for rest and renewal.
Suites: With fireplaces, expansive patios (some with outdoor firepits or showers), and unobstructed views of the Santa Catalina Mountains, our residential-style suites offer ample space for rest and restorative sleep.
Private Residences

The Villas: Mindful design seamlessly blends with unrivaled natural beauty and supreme privacy.

These seven elegant, private, and modern residences span two to three bedrooms and feature cascading, retractable floor-to-ceiling glass doors that blur the lines between indoor and outdoor living. Each is artfully cocooned within its slope of the earth, balancing sprawling private terraces—featuring a dining area, gas fire pit, and infinity-edge pool backing up to a pristine desert wash against the majestic mountain rise.
An intentional orientation to the sun's path optimizes daylight and lowers energy consumption. Rammed earth walls cool interiors by day and then warm them at night. Rooftop solar systems heat water naturally, while low-flow fixtures conserve it.
A fully appointed gourmet kitchen and a dining room with table seating for six make in-room entertainment a breeze.
A dedicated concierge team meets your needs, from scheduling services to planning itineraries and everything in between.

The Retreats: Sophisticated & expansive private living spaces

Our newest accommodations offer a stunningly spacious combination of comfort and modern design.
An elevated level of flexibility transcends the traditional suite with twenty-two modular spaces, ranging from studios to roomy three-bedroom suites.
Each retreat features gourmet kitchens and dining tables, large patios with reflection pools or hot tubs, outdoor showers, seating, and fire pits, an expansive living room with floor-to-ceiling retractable glass doors, and our best views of the Santa Catalina Mountains.
WHERE IS IT?
North of Tucson, Arizona, in the foothills of the Santa Catalina Mountains
Our guests tell us that this magical patch of enchanted desert is their spiritual home. Nestled in the foothills of the Santa Catalina Mountains, the resort delivers a soulful spark of desert light, revealing sandy paths that wind through bright cactus blooms.
HOW IS THE WEATHER?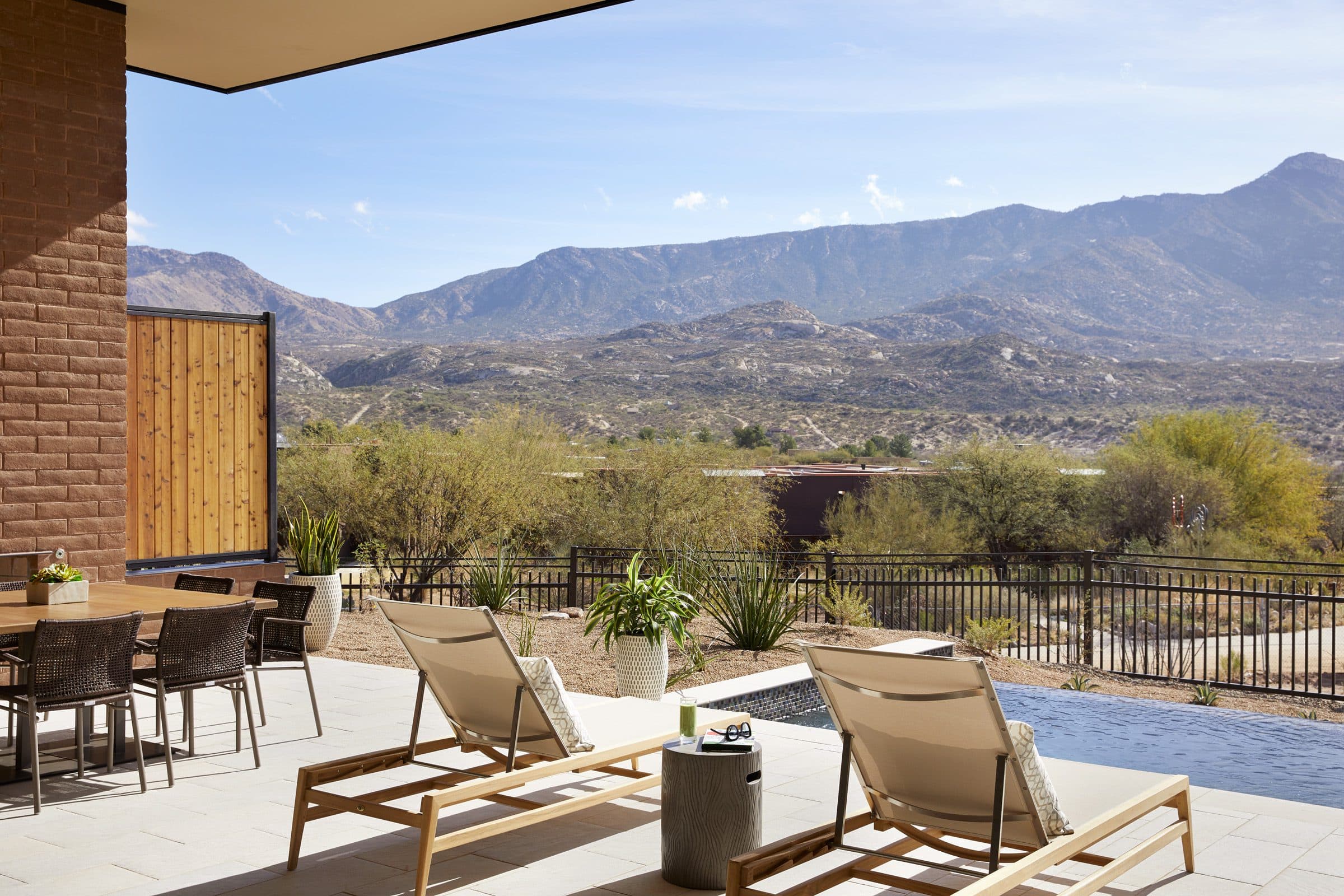 In Tucson, the summers are hot, the winters are cool and dry, and it is mostly clear year-round. Southern Arizona is known for its heat but also sees some chilly temperatures.
Summer High: ~ 100 degrees in July
Winter Low: 39 degrees in January
*Rain: averages 11 inches/year
Snow: averages 0 inches /year
Sunny Days: 350/year
*There are a few times each year most favorable for rain. One is during the winter months, and the other is during summer monsoons.
WHAT TIME IS IT?
This is the current time at Miraval Arizona
Miraval Austin is on Mountain Standard Time (MST), which does not observe daylight savings and does not change the time seasonally. So, remember that the time difference between your locale and Miraval Arizona will vary depending on when you change your clocks.
HOW TO GET HERE
Closest Airport: Tucson International Airport (TUS), Phoenix Sky Harbor Airport (PHX). We offer complimentary shuttle rides to and from the property. Total shuttle drive time can range from 45 minutes – 1 hour, depending on traffic.
Closest City: Tucson, AZ
Other transportation options: Some guests choose to fly into Phoenix Sky Harbor Airport (there are more direct flights from major cities to this airport) and rent a car or take a shared ride service to Miraval Arizona. This drive is closer to 1 hour 45 minutes, and would not be included in your stay.
LOCAL LORE
Tucson hosts the International Gem & Mineral Show, the world's largest, oldest, and most prestigious show of its kind.

Miraval Arizona welcomes local Tucsonan artists & artisans to showcase and celebrate their work. Connect with them, and deepen your understanding of the many unique mindfulness tools used in some of our wellbeing experiences, and more. Learn more about our on-property boutique Trunk Shows & Marketplaces HERE.

El Tour de Tucson is a premier cycling event held in Tucson each year and celebrates its 40th anniversary this fall.
City of Gastronomy is a distinction Tucson received from the United Nations Educational, Scientific, and Cultural Organization (UNESCO). The food here tells a story that dates back 4,000 years and honors the city's culinary heritage and Mexican and Native American traditions with each bite.
HABITAT: The Sonoran Desert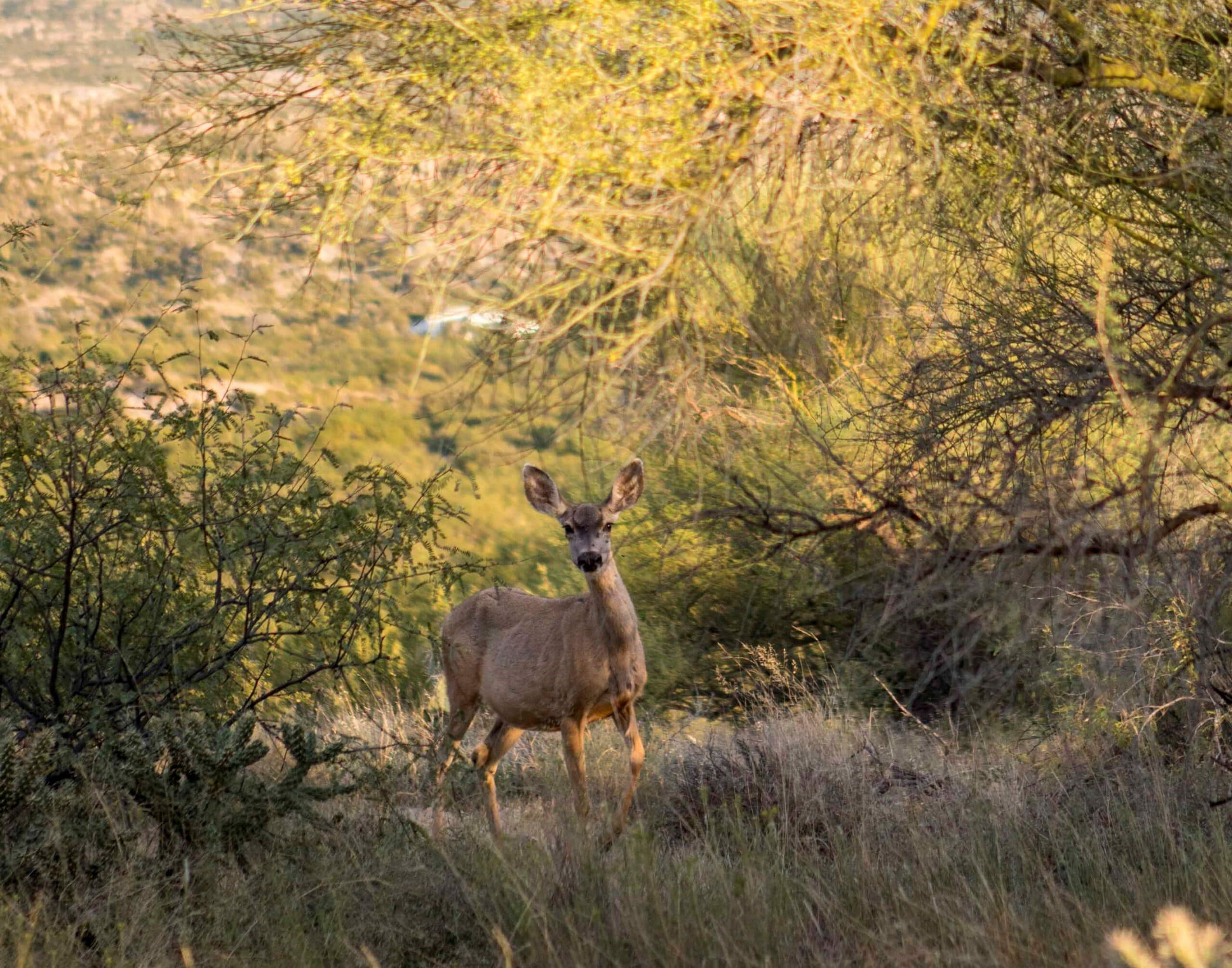 Wildlife

Bring Your Binoculars for a great show of the over 500 species of birds in the Tucson area. Our amazing local birds—cactus wren, greater roadrunner, and Gila woodpecker —are specially adapted to their desert home, while giant sandhill cranes and other wintering birds visit seasonally. Try out our unique Wings of the Southwest class to learn more.
Guests love to look out the window while getting a signature pedicure to view the Hummingbird Garden. Some have even spied tiny baby owls nesting in the overhangs.
You might spot mountain lions, scorpions, rattlesnakes, tarantulas, Gila monsters, javelina, or bobcats—best seen from a safe distance.

Blooms

The enduring icon of the Sonoran Desert is the Saguaro Cactus, whose blooms (Arizona's state flower) open in the evening from May to June to feed hungry bats and stay open the following day to be pollinated by white-winged doves.
Though the Sonoran Desert has two flowering peaks, there is almost always something in bloom.
In winter, you can find a vast carpet of colorful poppies, lupines, and owl clover. Patches of penstemon, brittlebush, and fairy duster flower in spring with desert bluebells, Mexican gold poppy, and blackfoot daisy. The summer monsoon rains bring even more blooms like Arizona poppy, canyon morning glory, and firewheel.

Geography

Sonoran Desert
Santa Catalina Mountains
Catalina State Park
HISTORY & HERITAGE
On a patch of desert north of Tucson, among the mesquite trees, saguaros, and prickly pear, the O'Donnell family bought a dude ranch in 1995 and converted it into a health and wellness haven rooted in mindfulness.
Miraval Arizona opened its doors to offer something new to the world. For almost three decades, it has become a sanctuary for people to regain balance through mindfulness and restore wellness and happiness to their lives. We are also, at heart, an ever-growing family—a thriving orchard of kinship and wellbeing that sprouted from a sacred sapling in the rocky, desert earth.
SENSES & SURROUNDINGS
The art of desert landscaping permeates the property with drought-tolerant plants that live symbiotically with the environment. By xeriscaping—landscaping without excessive water use—and using other moisture-retaining tactics like using rocks and mulching techniques, our desert oasis reminds us of the delicate balance with nature.
Miraval Arizona's colors are carefully chosen to complement the landscape with hues of purple sage, glowing amber, and red clay. The scents of creosote and cactus blooms send our senses fluttering with the local butterflies, while our flagship apiary gives us a taste of fresh, local honey with each hive.
PROPERTY TOUR
BOOK YOUR STAY
Explore our packages, see what's included, and start planning your stay. It's all about you, and giving you the best value for your wellness journey.
BOOK NOW