Miraval Berkshires: Wellness in All Seasons
By Araxe Hajian
Discover how Miraval Berkshires differs from our other properties by clicking on the categories below.
What Makes Miraval Berkshires Unique?
WE CELEBRATE ALL FOUR SEASONS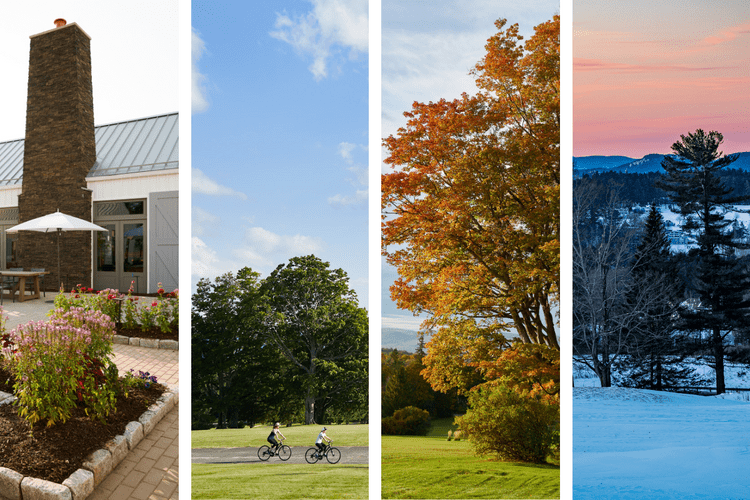 Miraval Berkshires is the coolest place to be comfy and cozy in the cold. Hiking and hygge combine to send you into the fresh snow for an invigorating hike and then back by the fire for a warm cup of cider. Miraval Berkshires' architectural design intentionally gives you options: Enjoy the wonders of winter from warm window views or see it up close on our maintained trails—in all weather.
IT HAS A GILDED AGE MANSION
This 1894 historic Wyndhurst Mansion offers unique guest rooms, meeting and event spaces, fine dining, a roaring fireplace, a grassy lawn, and stunning views.
DISTINCTIVE DINING & MINDFUL MENUS
A Taste of New England
Flavors and ingredients reflect New England's local farms, dairies, and fisheries—showcasing East Coast oysters or a heap of Arethusa Blue, depending on the catch of the day and the local cheesemongers' choice.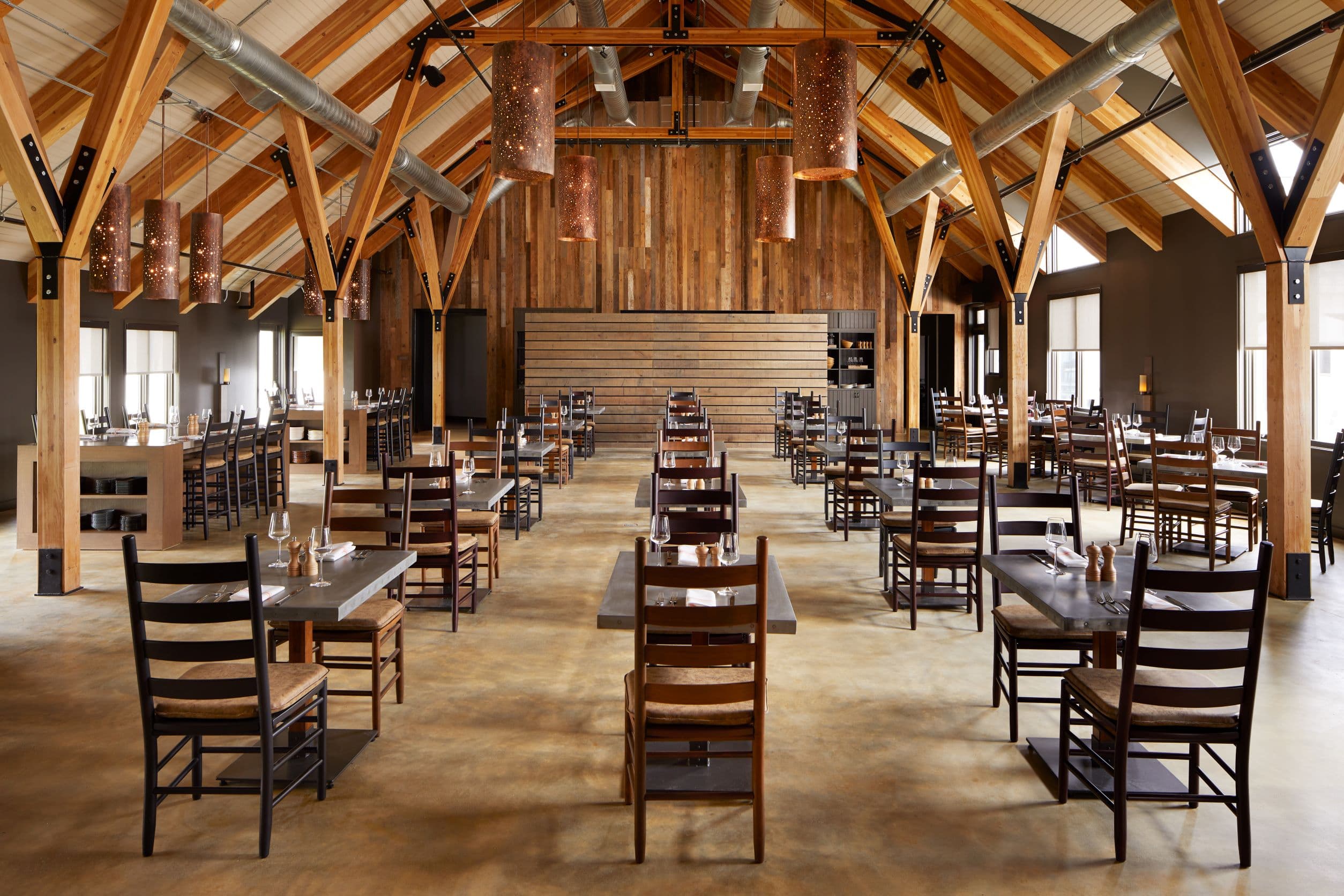 Harvest Moon Restaurant:

Harvest Moon serves a rotating menu for breakfast, lunch, and dinner.
Metal lanterns with star-shaped cutouts cast a cosmic glow, glimmering with copper tones against dark-stained wood. A quiet cavern for reflection or a warm corner of storytelling among friends, this venue delivers magical meals with mindful portions that you can order in any amount or sequence. Dessert first? Why not. Double the delight with two entrees or sub a main plate with a set of appetizers for a flight of fancy (or Frizzante, if you prefer).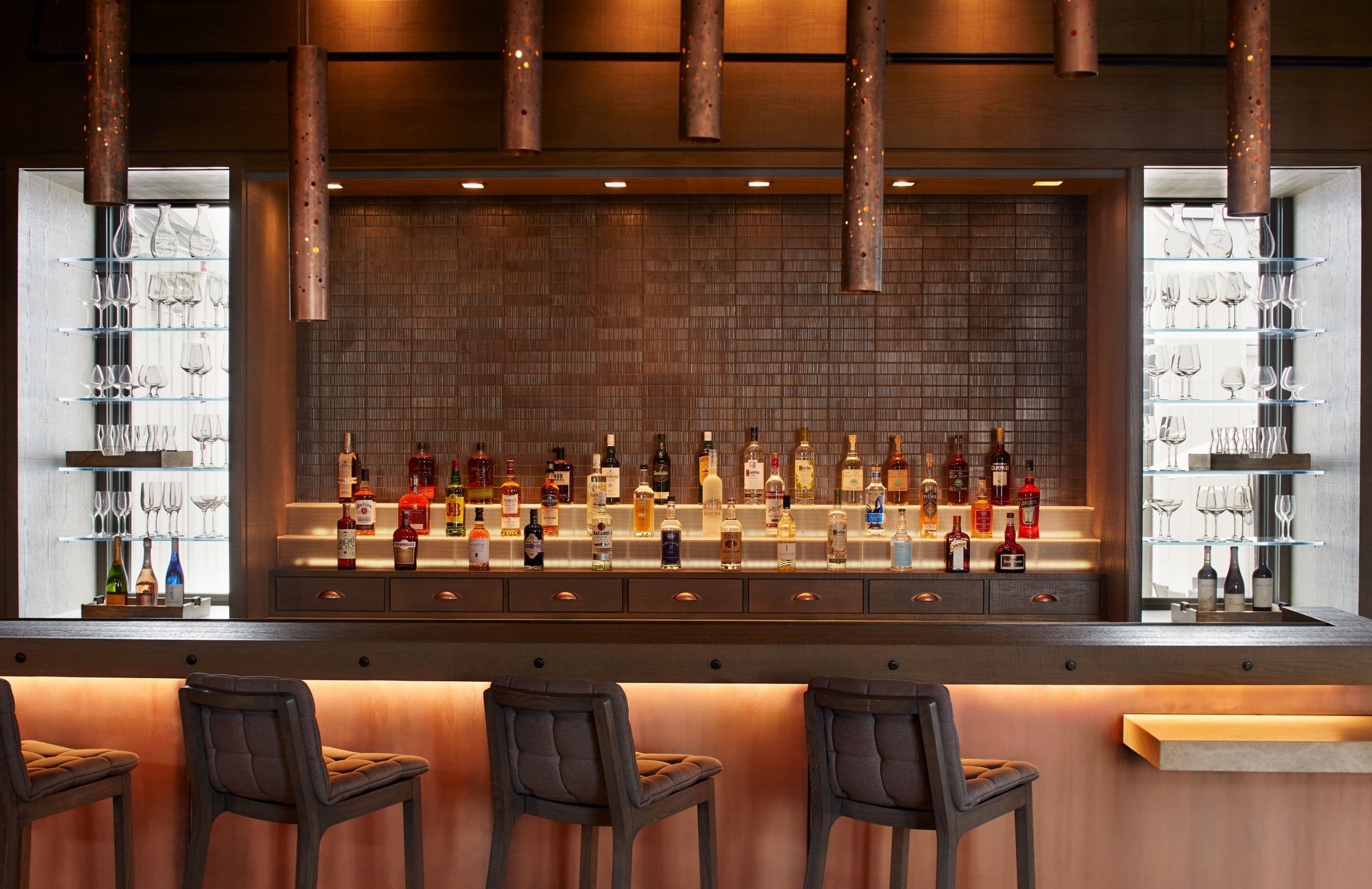 The Roost Café:

The Roost is perfect for a snack, a sip, or a simple hello. Grab 'n' go salads and sandwiches keep you nourished between meals and activities.
Imagine a flickering fire across a warm bar with banquettes and burnt orange poufs with velvet pillows. A corner table might reveal a half-solved puzzle for you to finish. Rehydrate with a nutritionist-created smoothie by day or wind down with a craft cocktail or herbal elixir in the evening.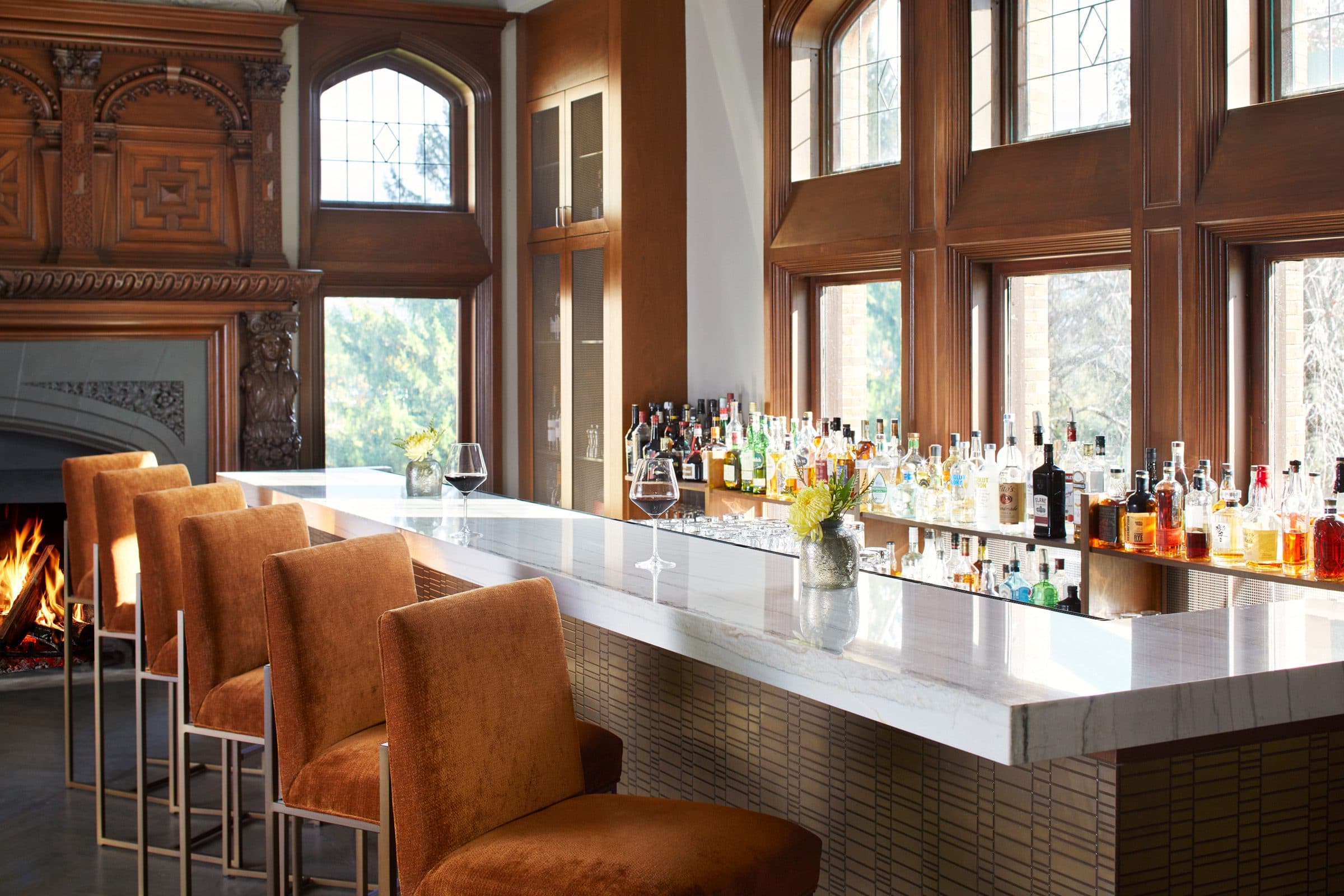 1894 Restaurant & Bar:

Unlike our other properties, Miraval Berkshires offers another dining option besides our main restaurant.
Dress up or down, but get ready to take a deep dive into a bygone era of gilded glamour when you sign up for a tasting menu or prix fixe dinner at 1894. Sign up for our exclusive pre-meal Poetry Theater performance for a special treat. It's a not-to-be-missed showcase of storytelling through recitation (and even a few clever costume changes) that transports you in time and prepares you for a second course of culinary delight. A nightcap at the adjacent marble-topped bar tops off a one-of-a-kind enchanted evening. Read here for more about our tasting menu experience.
EXCLUSIVE OFFERINGS
The Ayurveda program here goes beyond spa treatments, offering tools that help you boost your sensual health with the Kama Sutra's ancient wisdom, ground your energy on the Great Lawn, or align your circadian rhythms as part of your soul discovery.
Golf: Miraval Berkshires is our only property that offers golf. Take a swing on our 18-hole course, built by Wayne Stiles and John Van Kleek in 1926. Mindful Golf offerings and an indoor simulator let you work on your game all year round.
Only at Miraval Berkshires: A series of unique sessions focusing on your breath, including Neurodynamic Breathwork.
Spiritual ceremonies and nature-based rituals celebrating cacao & other sacred plants.
Akashic Soul Record Readings & Aura Photography
Our brand's most comprehensive Pilates program comes with a Polestar Pilates-trained expert and a full circuit of equipment, including jump boards.
Our Animal Connections program has the most extensive variety of animals, including donkeys, owls, and falcons.
Pottery Workshop & Art Studio: Miraval Berkshires has a dedicated art space, including a pottery studio.
A Cultural Connoisseur, whose sole job is to introduce you to the area's rich culture through sketch clubs, high teas, sensory wine tastings, seasonal elixirs, and regional recipes for enrichment and wellbeing.
INDOOR OPTIONS
Heated, interconnected passageways let outdoor light in and keep winter cold out, giving you the option of exploring the main property in your plush spa robe.
Full-sized indoor saltwater pool. When our outdoor pool's heated waters can't outmatch the frigid air, swim indoors any time of year without irritating chlorine or cold temperatures getting in your way.
NATURAL SPACES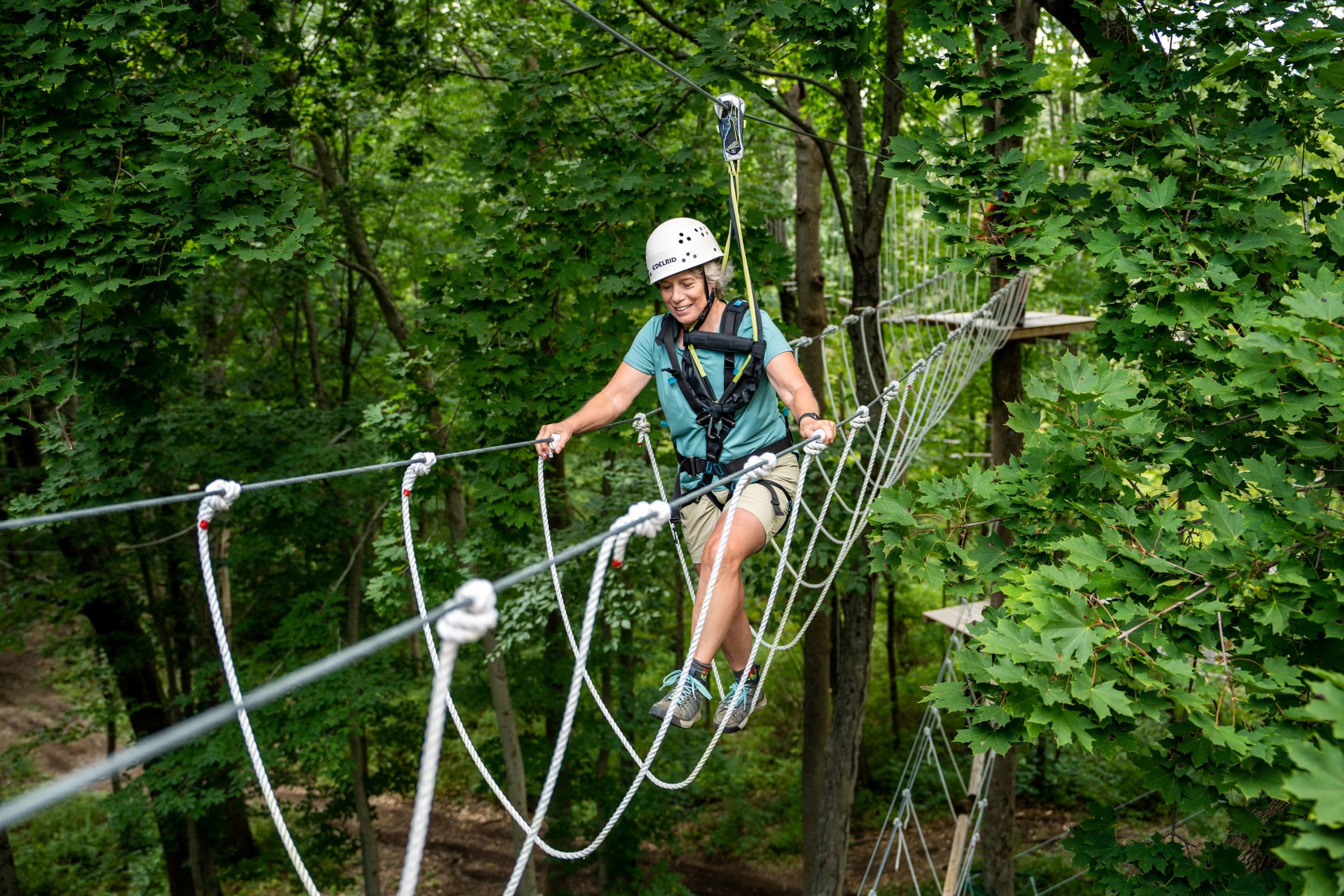 Meadowview Challenge Course: The brand's largest course sends you flying through the treetops.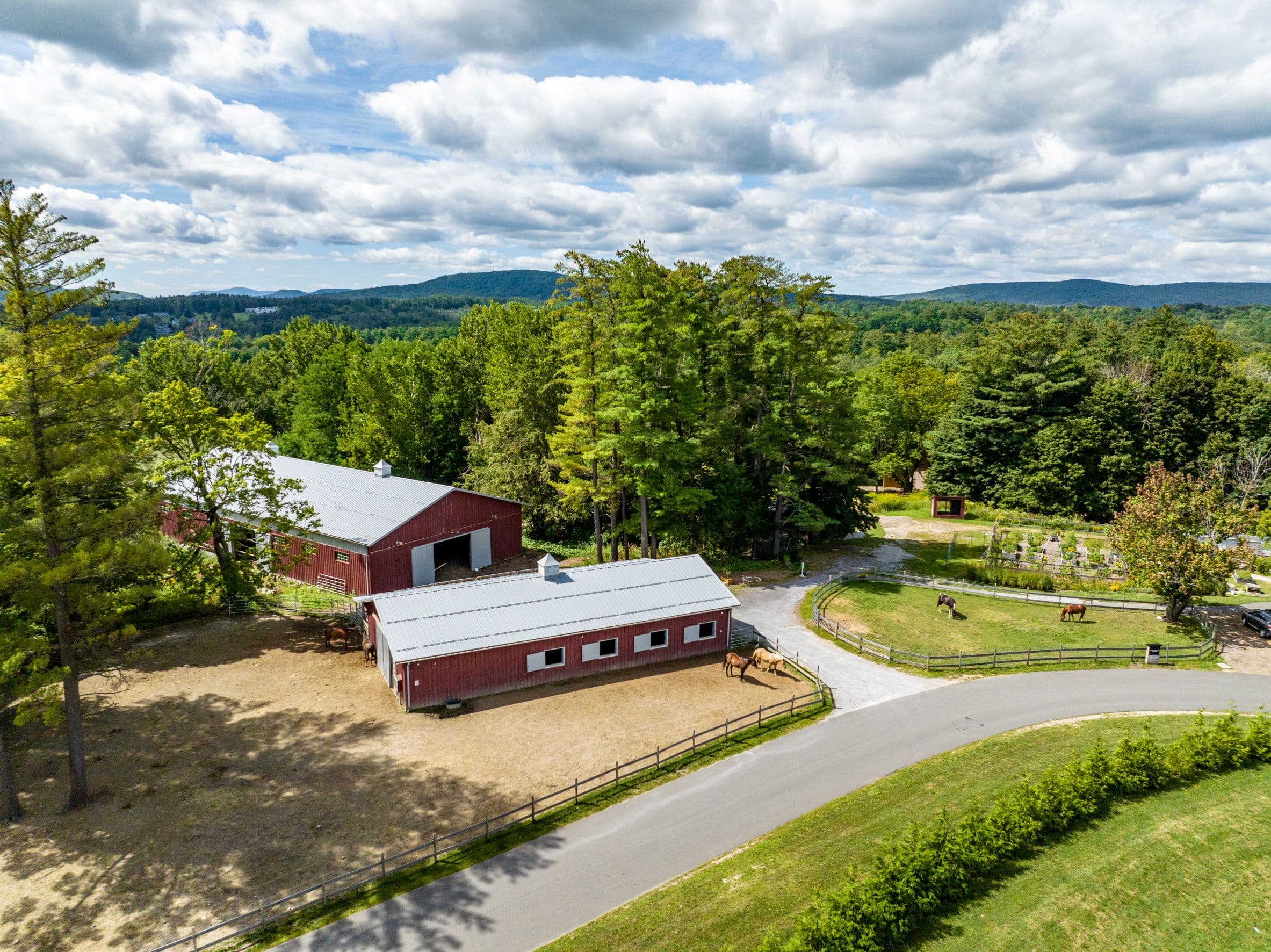 Meadowview Farm & Greenhouse: This New England farm hosts the largest variety of wildlife out of any of our resorts. Beyond horses, chickens, and bees, Meadowview Farm is home to red-tail hawks, barred owls, donkeys, and goats. We also have a mushroom program that teaches foraging and inoculation techniques. You can even make unique spore-print art from foraged mushroom caps. An on-site greenhouse offers indoor space for classes in plant care and microgreens.
SIGNATURE LIFE IN BALANCE SPA
Miraval Resorts' largest spa, at 29,000 square feet, offers services you won't find anywhere else.

Dry Flotation Soft-pack treatments include Heart Song and the Obsidian and Sage Detoxifying Ritual.
Unique body rituals, like Verbena Aloe or Nature's Apothecary, pamper and protect your skin.

We have more fireplaces than any other Life in Balance Spa (4, including two outside), a dedicated Vasudhara pool, and an indoor-outdoor pool and firepit.
Miraval Berkshires' salon manager is a trained trichologist, a specialist who focuses on hair and scalp issues (like hair loss) and can advise about and provide treatments for them. She even has her own apothecary of herbs that she hand-grinds with a mortar and pestle.
Sample Laurel Skin's Tulsi Rose Balm, designed only for Miraval Berkshires, with locally harvested, all-natural ingredients. It's used in several treatments, and you can take home a jar to enhance your self-care routine.
HABITAT: The Berkshires Hills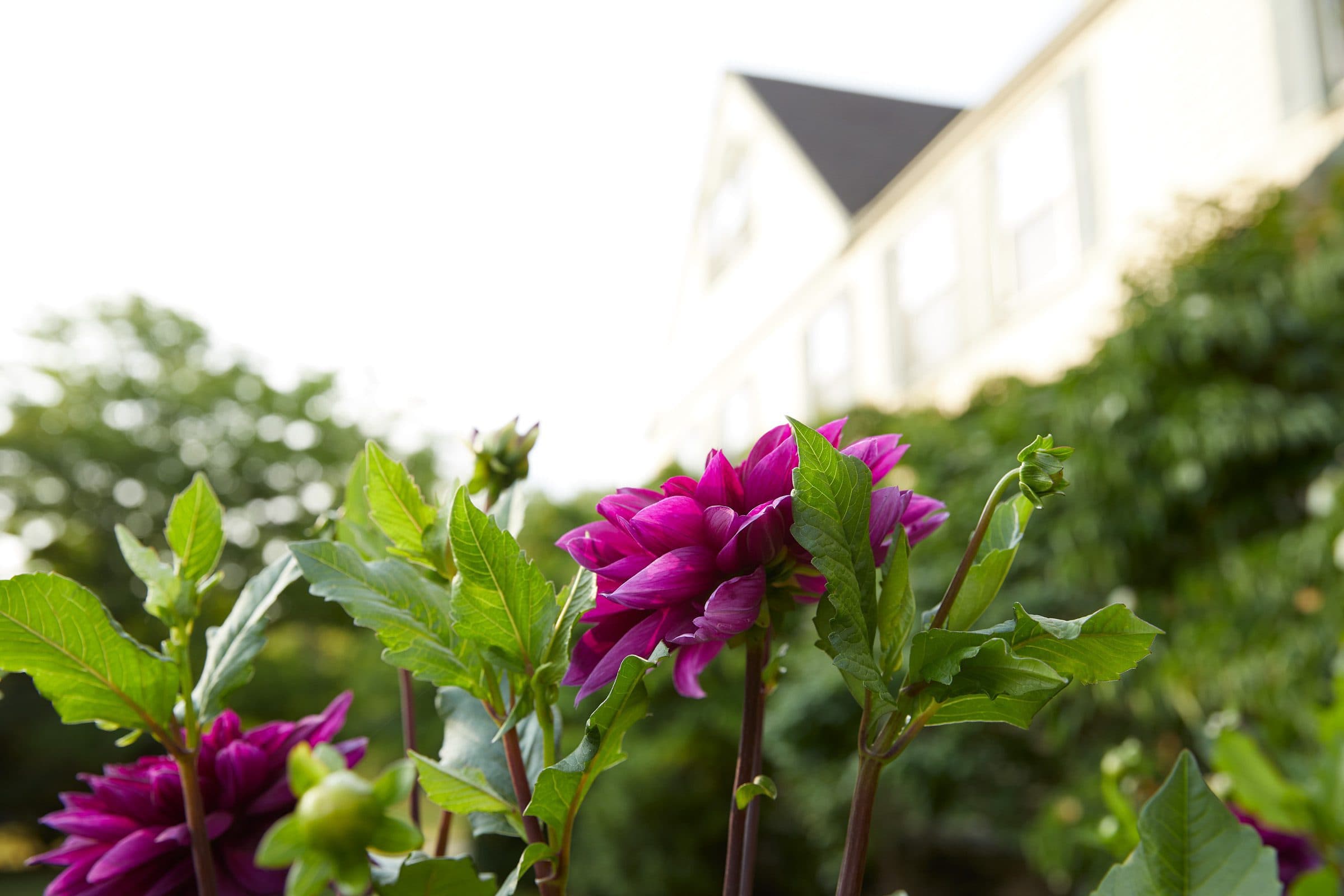 Wildlife

Roam in the territory of black bears, moose, bobcats, red and gray foxes, coyote, wild turkeys, and deer.
Birders are welcome! Goldfinches, cardinals, or blue jays can be found fluttering around. You might even spot the stunning, orange-throated blackburnian as you immerse yourself in the avian world.

Blooms

Winter snow yields to flurries of fragrant white dogwood flowers on our 380 acres of budding trees and roaring brooks.
Few things can rival the joy that comes with spring's fresh tulips, rhododendron blossoms sprinkling the mountains, and the vibrant green of summer grass.
Fall brings magnificent foliage with kaleidoscopic hues of orange, chestnut brown, red, and yellow. The scent of apple cider, pinecones, and fresh maple syrup makes us reach for fluffy sweaters and warm scarves.
The cyclical nature of the seasons reminds us that (in the words of New England poet Robert Frost) "nothing gold can stay." Each moment stands in its own golden light, and we can savor it with presence and purpose.
Geography

Laurel Lake: Exclusive access to a freshwater lake lets you kayak, canoe, paddleboard, and explore placid waters.
Winter Wonderland: Reclaim your sense of play in old-growth forests with cross-country skiing, snowshoeing, fire-forging, and ski archery.
New England's Best Hiking & Biking Trails: We partner with the Massachusetts Audubon Society, Berkshire Natural Resources Council, and Trustees of Reservations to introduce you to the natural wonders of the Berkshires.
HISTORY & HERITAGE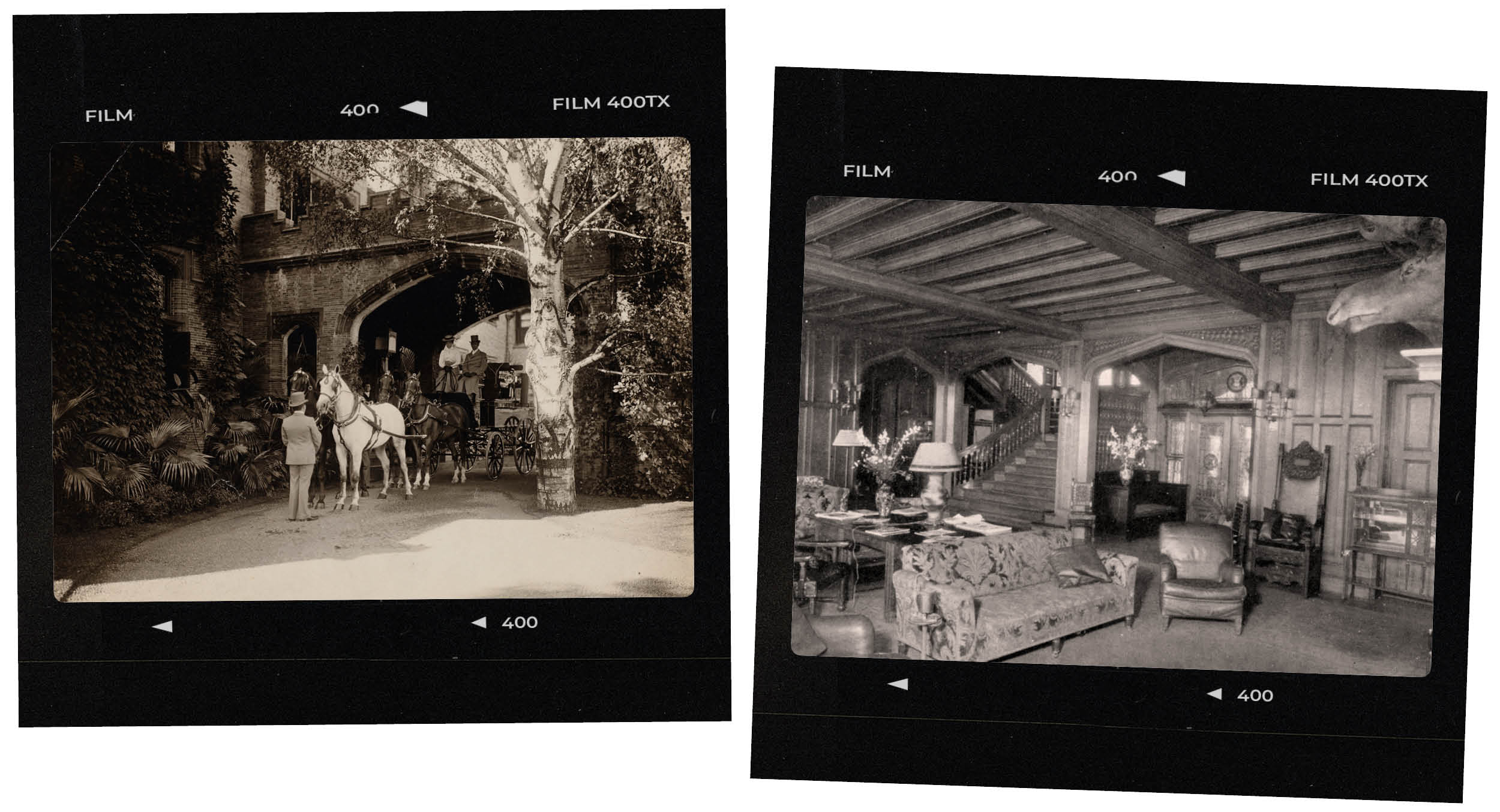 These lush grounds have housed artists, writers, musicians, and culture lovers in Massachusetts. The central hilltop Tudor-style Wyndhurst Mansion has overlooked this countryside for more than a century, reflecting the glow of its Gilded Age origins.
Built in 1894 and updated in 2019, our property's crown jewel is surrounded by 380 acres of woodland delights, with gardens designed by Frederick Law Olmsted, the famous landscape architect who created New York's Central Park. A grassy, green lawn overlooks the Berkshire Hills and Laurel Lake's trout-filled waters.
THE ENVIRONMENT & VIBE
According to the principles of feng shui (an ancient practice of creating balance in the natural world), the predominant landform in the Berkshires is earth, known as Jue Men 巨門星 _or Great Gate. It brings prosperity and encourages health and healing—an optimal space for Miraval Berkshires to thrive.
In a superior feng shui orientation to the surrounding landforms, Miraval Berkshires' Wyndhurst Mansion is embraced by two mountain ranges, one on each side representing male (Green Dragon) and female (White Tiger), locking in the Chi, or energy, and uniquely situating the entire property to support both men and women
The grassy lawn, a favorite spot for meditation and contemplation, is known as the Bright Hall (Ming Tang), and offers southwest views of Laurel Lake, collecting and amplifying Chi.
To the east, rolling hills that look like water represent a Water Star 文曲星 _or literary arts formation, which has drawn so many writers to the area, including Edith Wharton, W.E.B. DuBois, Herman Melville, Edna St. Vincent Millay, and many more.
---
WHERE IS IT?
Miraval Berkshires is centrally located in Lenox, Massachusetts, between New York City and Boston.
HOW IS THE WEATHER?
Average temperatures in The Berkshires vary drastically. Considering humidity, temperatures feel cold for about half of the year, and otherwise nice, with a chance of rain or snow throughout most of the year.
Summer High: 80 degrees in July
Winter Low:  12 degrees  in January
Rain: averages 48 inches/year
Snow: averages 65 inches/year
Sunny Days: 185/year
WHAT TIME IS IT?
This is the current time at Miraval Berkshires
Miraval Berkshires is on Eastern Standard Time
HOW TO GET HERE
Closest Airport: Bradley International Airport (BDL). We offer complimentary shuttle rides to and from the property.
Train:   Amtrak from Grand Central Station to Pittsfield
Car: Drivable from NYC & Boston
Closest City: Hartford, CT, and Albany, NY
LOCAL LORE
Summer Festivals

Jacob's Pillow: America's Premier Summer Dance Festival
Tanglewood: Boston Symphony Orchestra's summer home.
Shakespeare & Company: Producing Shakespeare's theatrical masterpieces for over forty summers.

Cultural Landmarks

Norman Rockwell Museum, housing the world's largest collection of the artist's paintings and illustrations
The Mount, Edith Wharton's 1900s-era home
Ventfort Hall Mansion and Gilded Age Museum, the former home (built in 1893) of J.P. Morgan's sister
UNIQUE SPACES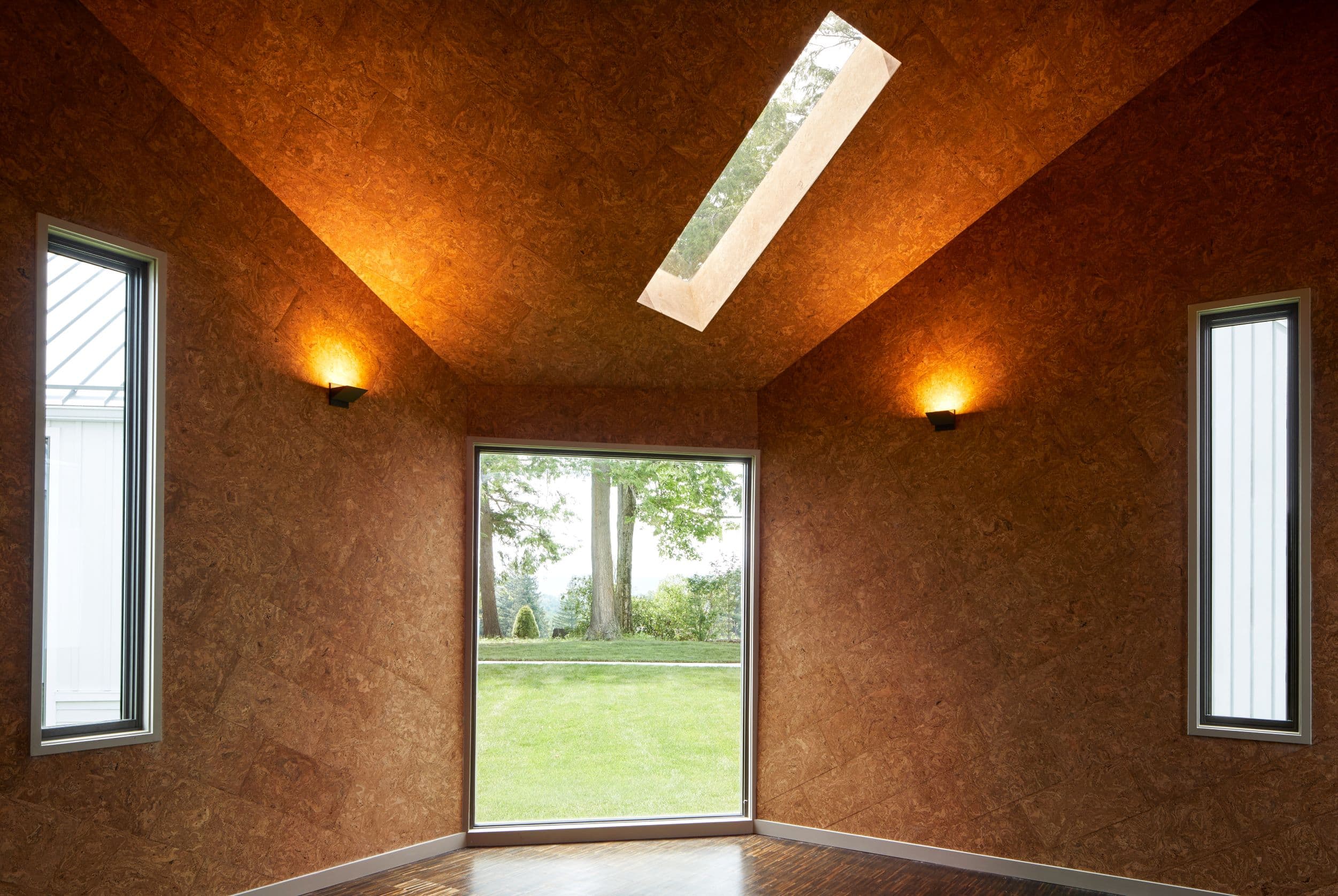 Vibrational Sound Chambers: Two custom-created spaces host exclusive Sound Healing and spiritual ceremonies.
Pottery Workshop & Art Studio: Miraval Berkshires has a dedicated art space, including a pottery studio.
1894 Restaurant & Bar: The premier 1894 Restaurant at the historic hilltop Wyndhurst Mansion presents the brand's first fine dining experience, featuring tasting and prix fixe menus with wine or spirit-free pairings in our formal dining room and wine tastings at the bar overlooking the Berkshire Hills.
WHERE TO STAY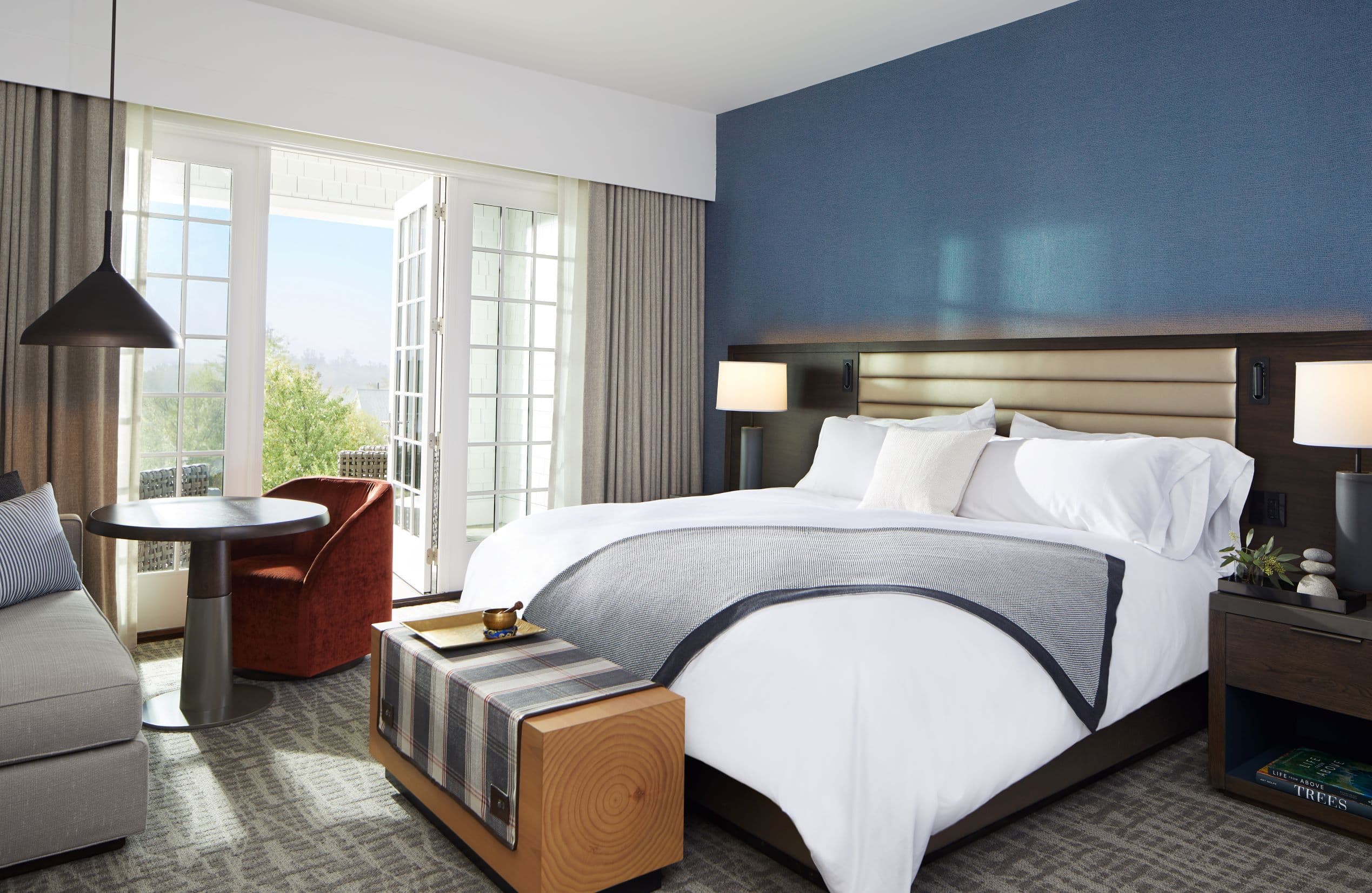 After a day of enriching exploration, you need a restful retreat. Whether you stay in Wyndhurst Mansion or one of our cottages or carriage houses, our rooms and suites are elegant and calm spaces for sleep.
Our cozy cottages are named for words our guests use to describe the Miraval state of mind: Serenity, Discovery, Tranquility, and Reflection. Evoking the easy elegance of a New England country home, each room and suite is inspired by the Berkshires' rolling hills, soft clouds, and bright sunlight with peaceful cranberry, amber, and blue color palettes that encourage relaxation, meditation, and deep sleep. Our indoor passages invite cottage guests to explore the entire resort from their doorway without stepping outside or changing out of a plush robe.
Wyndhurst Mansion Rooms & Suites
Stay in Gilded-Age style in one of 10 elegant guest rooms or suites, named for writers, artists, and creatives from this culturally significant period. Each is recently renovated for our guests' comfort—with reverence and respect for the storied building and for John Sloane's original vision. Wyndhurst Mansion is a great choice for golfers who want easy access to our historic golf course.
For bigger gatherings—like getaways with friends, multi-generational family reunions, or team retreats—our three Carriage Houses offer extra space for quality time together. With the added convenience of a wet bar or kitchenette, plus updated bathrooms, these accommodations are great for groups.
WEDDINGS
Miraval Berkshires is the first of our resorts to launch a new concept for couples: The Miraval Mindful Wedding. Read more about it here.
Property Tour
BOOK YOUR STAY
Explore our packages, see what's included, and start planning your stay. It's all about you, and giving you the best value for your wellness journey.
BOOK NOW